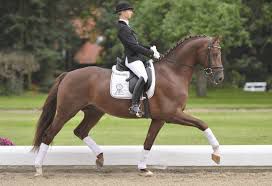 Prices:
Chilled: €0.00
Frozen: €850.00
Stud Fee:
850.00
Breed:
Colour:
Height:
169cm
Born:
Studbooks:
Oldenburg, Mecklenburg, Rhineland, Westphalia, Southern German Stud Books
Dazzling dressage stallion of the finest kind. Large-framed, with impressive conformation and harmony in his body, Flinstone possesses great potential in all paces and amazes with first-class rideability. In 2014, he succeeded his 30-day-test in Schlieckau well above average and completed, the same year, the performance record that is required from stallions, with the qualification to the national championships of German dressage horses. He is now trained up to S level. His sire Fidertanz began his extraordinary career in 2004 with a win at the NRW main licensing in Handorf. In 2005, he became German national champion with the score of 9.5 from the test rider and in 2006, he obtained the Ia main premium of the stallions with an emphasis on dressage at the Oldenburg licensing. Since then, he has been successful up to Grand Prix and has produced 52 licensed sons. The dam-sire Abanos was also able to show himself about with extremely typey offspring, who celebrated successes on many occasions at high level. Donnerschlag in the third generation counts as one of the most effective sons of the producer legend Donnerhall and won in Grand Prix with Heiko Münzmaier.
Flinstone stems from the Westphalian mare family 323/Feurige (by Feuerborn-Nestflüchter-Heinz), which also produced the licensed stallions Derwisch (privately owned Westf.) and Pop-Star (privately owned Rhld.).
Stud Terms
Frozen semen sold for one mare only. 50% credit will be given the following year for mares not in foal. Up to 2 doses available for the stud fee. If your stallion is not available at anytime they will substitute another similar priced stallion. Stud closes 31st July.