Stallion Fertility Investigations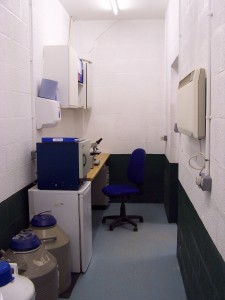 Stallions can be admitted to Willesley to investigate infertility or to assess their suitability for an Artificial Insemination programme.
All stallions will require health tests prior to admission as described in the HBLB code of Practice for the control of venereal diseases:
Physical Examination
Examination of the external genitalia will include manual palpation and ultrasound examination. A calculation of predicted daily sperm output can be made as determined by testicle dimensions and volume.
Semen Analysis
Semen collection can be made using an ovarectomised jump mare or on a phantom. Semen analysis will include;
Gel free volume
Raw and extended progressive motility
Motility of extended semen (panel of 3 extenders for AI assessment) at 24 hours
Motility of extended semen (panel of 3 extenders for AI assessment) at 48 hours
Concentration
Total number of progressively motile sperm in ejaculate
Morphology
Costs
| | |
| --- | --- |
| Description | Price |
| Physical examination and one semen collection and evaluation at Willesley. Two collections 1 hour apart will give a useful assessment of stallion fertility. Daily collections and assessment for 5 days will give the most useful assessment of stallion fertility. Collections and evaluations are reduced to £100 + VAT | £150.00 + VAT |
| Stallion livery including exercise according to owners requirements | £25.00 + VAT |