Lameness Referrals
Lameness referrals are tailored according to the individual case and our highly qualified vets provide a dedicated service to our own clients and referral cases.
Our hospital clinicians provide a thorough lameness investigation service for your horse to establish
when the problem occurs and to pinpoint the injury. If your horse is referred to us it is likely that a series of nerve blocks and/or inta-synovial (e.g joint) blocks will be performed. Once your horse's lameness has been localised to a specific area the advanced imaging provided by us may help in providing a specific diagnosis.
We offer both standard and advanced diagnostic imaging modalities which enable us to provide comprehensive evaluation. These modalities include:
Following on from a diagnosis being made, treatment options will be discussed on an individual case basis and appropriate treatments carried out. Treatments may include joint medication, remedial farriery and appropriate exercise regimes through to arthroscopic (keyhole) surgery. If surgery is indicated we have two European Diploma holders in Equine Surgery (DipECVS) with a wealth of surgical experience and expertise.
We work closely with local remedial farriers, with two farriers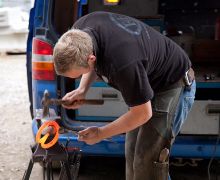 regularly seeing cases at the hospital. We
are also happy to discuss cases with, and work alongside, owner's own farriers.