Zone Visits
If you are calling about a routine procedure such as a vaccination or a dental check, try taking advantage of our zone day scheme. These are for pre-booked routine work on a particular week day and the visit fee is £10.
Please note that each clinic will have different designated zone days and zone visits are only available for routine work. If you need to make an appointment for anything other than a routine treatment on a zone day, please contact your local equine clinic to make an appointment.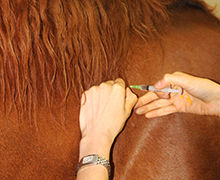 Request an Appointment
To request an appointment online, please fill in the form below. Once submitted, one of our reception team will contact you to discuss/confirm the booking. If you are already registered with us and need a routine appointment you can arrange a routine appointment by calling your local equine clinic.
In the event of a veterinary emergency, please do not use this form; call any of our equine clinics who will be able to deal with your call appropriately, 24 hours a day, 7 days a week.
B&W Equine Hospital & Breadstone Clinic: 01453 811867
Failand Clinic: 01275 392956
Willesley Clinic: 01666 880501
Stretcholt Clinic: 01278 229129
Online Appointment Requests
Online Appointment Requests will be monitored by our administrative staff Monday - Friday from 8:30am - 5 pm.
When requesting a visit, please make sure we have accurate contact details so that if an emergency should arise and the vet be delayed we can contact you to advise you of this. Please make sure we know the exact location of your horses.