Contact Anna ...
B&W Equine Group Ltd
B&W Hospital
Breadstone
Berkeley
Gloucestershire
GL13 9HG
T: 01453 811867
M: 07990 772147
Anna Endrikat DVM CVA MRCVS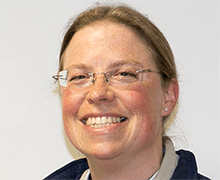 Anna graduated from Berlin University and worked at a large German referral hospital before joining the team at Willesley. Now based at Breadstone, Anna carries out both ambulatory and hospital duties. Anna has specific interest in MRI scanning, orthopaedics and intensive care. Anna also has a keen interest in providing our acupuncture service.