Contact Emma ...
B&W Equine Group Ltd
Willesley Clinic
Byams Farm
Willesley
Nr Tetbury
Gloucestershire
GL8 8QU
T: 01666 880501
M: 07798 708159
Emma's normal working days are Monday and Thursday.
Emma Ridgway BVM&S BSc MSc MRCVS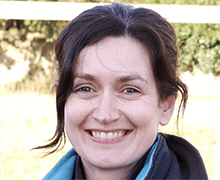 Emma qualified from the Dick Vet, Edinburgh, in 2007.
After a brief spell in small animal practice, Emma joined the Willesley Clinic as an Intern for 18 months. In July 2009 she was taken on as an Equine Assistant at Willesley and in winter 2010 she spent a stud season in New Zealand. Emma currently works part-time due to starting a family. Emma enjoys general equine practice and her particular professional interests are in equine and stud medicine.