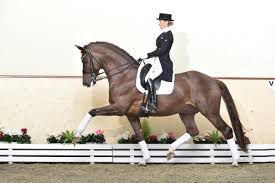 Prices:
Chilled: €2,000.00
Frozen: €2,000.00
Stud Fee:
2000.00
Breed:
Colour:
Height:
170cm
Born:
Studbooks:
Mecklenburg, Oldenburg, Rhineland, Southern German Stud Books, Westphalia, Hanover
At a young age, an exceptional sire - sought-after world wide
He came, saw and conquered! In 2016, Vitalis made his breeding and sport debut at our stud. At the World Championships of young dressage horses in Ermelo (NED), he set milestones: He won the Intermédiaire I and was particularly distinguished as "Stallion of the Year", while his daughter Victoria's Secret was awarded the title of World Champion of five-year-old dressage horses. He sovereignly qualified for the Nuremberg Burgpokal with Isabel Freese, where he made a clear win in the preliminary class as well as the final in Frankfurt. And matching his sport reputation, he also produced with Valverde, the dressage winner of the Westphalian licensing 2016. The very modern and big moving Vitalis has been in the fast lane for years. He was himself first reserve champion of the main NRW licensing in 2009, dominated the dressage index of his stallion performance test in 2010 in Warendorf and, at an early age, notched up wins and placings in dressage horse classes, amongst others at the Dutch stallion championships and at the World Championships of five- and six-year-old dressage horses. Shortly after he dominated the US championship in his age-group. With record marks of 10.0 for trot and 9.8 for canter, he was clearly ahead of the other competitors. With his first crops, Vitalis caused a stir: In Rhineland in 2014, his daughter Virginia K was the winner of the elite show and at the Westphalian Week, all five of the three-year-old mare and gelding finalists were offspring of Vitalis. At the autumn elite auction in Münster-Handorf, the four star horses were offspring of Vitalis. The two highest offers were 200.000 euros. So far, 16 of his sons have been licensed, including several premium stallions and top prices. His daughter Victoria's Secret was German national champion of four-year-old mares and geldings in 2015, two other descendants of Vitalis also reached the final and his daughter Vienna was at the top of the Westphalian elite mare show. In 2016, the licensed Villeneuve won the bronze medal at the German national championships of the four-year-old stallions.
His sire Vivaldi, internationally successful with Hans Peter Minderhoud, already looks back on a successful stallion armada of 21 licensed sons in Germany. Vivaldi was himself Reserve Champion of his stallion performance test with 9.0 for walk and canter as well as 8.5 for trot, won the five-year-old Pavo-Cup in Holland, won in 2008 "Hengstencompetitie" (stallion competitions) three times and also won in 2009 the final of KWPN tournament series for stallions, where he received 10.0 for his trot. In 2014, Vitalis dominated the World championships of six-year-old dressage horses in Verden, where his offspring ranked first, third and sixth. Vitalis' dam Tolivia was the three-year-old mare winner of the province of Limburg/NL. The dam sire D-Day was premium stallion in Oldenburg and approved LK I. He was successful in dressage up to Prix St. Georges. From a breeding perspective, D-Day left traces in the Netherlands and in Sweden. The great-grand-sire Argus was successful in Grand Prix in dressage but also in show jumping and the grey stallion Aktion J who follows in the fourth generation counts as one of the most successful dressage horses of his generation with the Hungarian Gyula Dallos. The licensed stallion Qarco van het Graethemhof, bred in Belgium, comes from this dam line.
Vitalis: Champions and price record setters are his brand label!
Vivaldi

Krack C

Flemmingh

Gicara II

Renate-Utopia

Jazz

Darla-Utopia

Tolivia

D-Day

Donnerschwee

Rudira

Nalivia

Argus

Folivia
Stud Terms
Chilled & frozen semen sold for one mare only. 50% credit will be given the following year for mares not in foal. Up to 2 doses available for the stud fee. If your stallion is not available at anytime they will substitute another similar priced stallion. Stud closes 31st July.