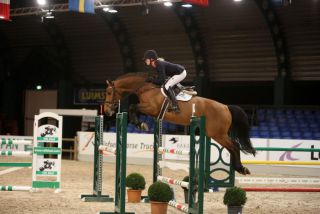 Davenport is the perfect example of today's best breeding of show jumpers. Sire Diamant de Semilly is currently ranked number one in the WBFSH Sire Ranking, grand sire Indoctro has been one of world's best for many, many years and then Landgraf, Ronald, Moltke and Ramzes are all true foundation sires of great importance. The offspring of Diamant de Semilly are so impressive that one would almost forget Diamant's own team gold medal with Eric Levallois at the World Equestrian Games in Jerez de la Frontera in 2002. Quickly de Kreisker, Utamaro d'Ecaussines and Emerald are only a few examples of outstanding offspring of Diamant performing at the very highest level.
Not only is the list of sires impressive, the dam line of Davenport reinforces his genetics with very interesting talent. The line begins with the legendary mare Retina. A sport phenomenon in her own time, winning the Hamburg Derby at the age of 7, Retina's breeding influence is enormous. This Holsteiner dam line, 104a, is one of Germany's most famous. It has produced show jumping stars like Corland, Corradina, Acodetto, Clapton, Landetto, Brantzau and of course Retina, herself. Davenport's dam Valentina IX has already produced the Holsteiner approved Cornetino, an extremely talented son of Cornet Obolensky, already establishing himself internationally. Davenport's grand dam Thyra is legendary as the dam of foundation sire Corland, now among the world's best sires, having been ridden by Wout-Jan van der Schans to achieve the highest accolades.
Palmares
Davenport himself impresses with his enormous scope and quality at the fence. Just like most of Diamant de Semilly's offspring and horses from Holsteiner dam line 104a, Davenport seems to have it all for the highest level, in both show jumping and breeding. Davenport 's schooling is progressing according to plan. Last year he competed at 1.20m level and this year he will move up to the 1.30m level.
Davenport meets the PROK and Roaring criteria of the KWPN
Davenport: Diamant de Semilly and the best of Holstein combined
Stud Terms
Semen is sold for one mare only. If that mare is not in foal by 1st October, we need an official letter signed by your vet stating that the mare is not in foal. With this letter you can continue to breed for 50% of the stud fee in the following season. There is no refund of the stud fee. All stud fees shown in euros and are subject to UK VAT. The transport of the semen is at the risk of the receiver/mare owner.