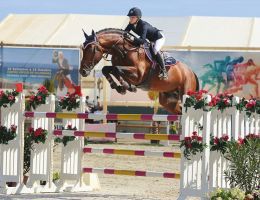 Prices:
Chilled: €1,000.00
Frozen: €1,000.00
Stud Fee:
1000 Euros
Breed:
Colour:
Height:
172cm
Born:
Studbooks:
Mecklenburg, OS-International, Rhineland, Southern German Stud Books, Westpahlia, Hanover
In the image of his highly successful sire -two great performers: Chacco-Blue x Grannus guarantee his success in breeding and sport
This powerful athlete will start his breeding career in 2018, after international success in Grand-Prix classes, such as in Stuttgart, Munich, Hickstead/GBR and Spruce Meadows, Calgary/CAN with Patrick Stühlmeyer, which placed him amongst the main squad. Great capacities, amazing technique and quick reflexes are all qualities that characterise Chacgrano. Chacgrano was bred by the Gestüt Lewitz and was carefully prepared for sport.
His sire Chacco-Blue - number 1 of the WBSFH world ranking - was himself successful in Grand-Prix classes, including a third place in the Grand-Prix of Aachen and is currently considered the most successful show-jumping sire in the world. His dam Gastona is the full sister to the internationally successful show-jumper Gaston M, who over the years has competed successfully with Hansueli Sprunger (SUI), Thomas Fuchs (SUI) and Valerio Sozzi (ITA) in Nations Cups and Grand Prix competitions up to the 1996 Olympic Games in Atlanta, USA, after becoming German champion of six-year-old show jumping horses in Mannheim in 1989 with Gerardus Krijnen. At Gestüt Lewitz, Gastona was also dam of the internationally successful Polytraum son, Polasko/Nicolas Pizarro (MEX) and grand-dam of Chataga (by Chacco-Blue-Carthago-Grannus) with Cassio Rivetti (ITA).
The dam-sire Grannus was successful at advanced level/S level show jumping and is one of the greatest producers for international show jumping sports of all time. Progeny of this great sire have been a part of many National Teams of numerous countries.
Chacgrano has obtained his special breeding touch from his thoroughbred great-grand-dam Igra xx (by Gibrid xx-Baigist xx-Soldennis xx etc.), who descends from the thoroughbred family 17 bred in Russia.
Chacgrano: The special debut
Chacco-Blue

Chambertin

Cambridge

Desiree VII

Contara

Contender

Godahra II

Gastona (Wizvilina)

Grannus

Graphit

Odessa

Walaska

Wohlgemuth

Izvilina xx
Stud Terms
Chilled & frozen semen sold for one mare only. 50% credit will be given the following year for mares not in foal. Up to 2 doses available for the stud fee. If your stallion is not available at anytime they will substitute another similar priced stallion. Stud closes 31st July.