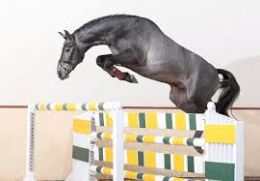 Prices:
Chilled: €800.00
Frozen: €800.00
Stud Fee:
800.00 Euros
Breed:
Colour:
Height:
170cms
Born:
Studbooks:
Mecklenburg, OS-International, Rhineland, Southern German Stud Books, Westphalia
Licensing champion in Redefin 2017
Cornet to win is a direct 'Cornet-son', as one can imagine: typey, with exceptional manners, technique and ability at the jump, where he uses his whole body.
A deserving champion with no ifs or buts.
His sire Cornet Obolensky counts as one of the best show-jumping sires of current times (4th place in the WBFSH world ranking in 2017) and has so far produced 288 S level show-jumping horses and the lifetime earnings of his descendants amount to over 7.97 million euros, amongst them Cornet d'Amour/Daniel Deußer, Comme il faut/Marcus Ehning, Cornado I NRW/Marcus Ehning, Cornado II/Christian Ahlmann, Cornet's Cristallo/Marco Kutscher as well as Colestus/Christian Kukuk. His dam Corina produced with his full-brother Come to Win 51/Holger Hetzel an exceptional international show-jumper, as well as three other show-jumping horses. Dam-sire Corino was successful in sport up to 19 years of age, including at high level. He is regarded as a factor of longevity and brings the genome of the great Corrado I/Franke Sloothaak into the pedigree a second time. Grand-dam Wencke produced several successful sport horses up to S level.
With the sire Weinberg, who was convincing at the highest level, the highly esteemed performers Plutos and Dorn, also appear in this amazing mother line. Cornet to win descends from the Hanoverian line 654, from which come several licensed stallions and the internationally successful show-jumpers Campione CH/Werner Muff (SUI), Karolein/Klaus Reinacher and Miss Wüstenfee/Wilhelm Bettinger.
Breed with Cornet to win
Cornet Obolensky

Clinton

Corrado I

Urte I

Rabanna van Clostersveld

Heartbreaker

Holivea van Clostersveld

Corina

Coronino

Corofino

Nienburg

Wencke

Weinberg

Parodie
Stud Terms
Chilled & frozen semen sold for one mare only. 50% credit will be given the following year for mares not in foal. Up to 2 doses available for the stud fee. If your stallion is not available at anytime they will substitute another similar priced stallion. Stud closes 31st July.