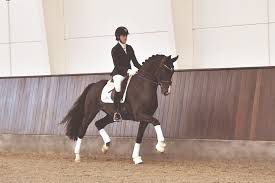 Prices:
Chilled: €1,300.00
Frozen: €1,300.00
Stud Fee:
1300 euros for chilled/frozen semen
Breed:
Colour:
Height:
168 cms
Born:
Studbooks:
DWB, Hanover, Mecklenburg, Oldenburg, Rhineland, Southern German Stud Book, Westphalia
The highly acclaimed Westphalian Champion Stallion Danciero has now also confirmed his dream horse characteristics in dressage arenas. Shortly before his fantastic stallion performance test in Denmark with a total score of 911.0 points (10.0 for rideability), he became the superior Hanoverian Riding Horse Champion in Verden: 10.0 for trot and canter, 9.5 for rideability and 9.0 for walk. With a total score of 9.4, the beautiful stallion with huge paces was in a class of his own, ridden by his trainer Eva Möller. At the German Championships for three-year-old stallions, he also received high scores for canter and rideability (9.0s) as well as for trot, walk and conformation (8.5s).
His sire Dancier, Hanoverian champion stallion in 2004 and winner of the overall and dressage index of his stallion performance test in Adelheidsdorf in 2005, was awarded the Freiherr von Stenglin Prize and Burchard Müller Prize as best stallion of his age class in 2006. Dancier then came second at the Hanoverian Riding Horse Championships and third at the German Championships (4-year-old class) after winning the qualifier for the final. In 2008, he was also placed in the 6-year-old championships in Warendorf. Since then, he has been victorious up to Prix St. Georges in dressage. In 2014, Dancier was awarded the prestigious "Grande-Preis". The crowd of over 40 licensed sons is led by the Burg Cup and Louisdor Prize finalist Harmony's Don Noblesse/Susan Pape/GBR, who was sold for a high price at the P.S.I. Auction. Amongst his other offspring is the dressage German and World Champion Lordswood Dancing Diamond and the European Championship participant Dacor S/Mikaela Soratie/FIN. His daughters, including the Hanoverian Champion Mare St. Pr. St. Dakota, also cause great excitement. The two-million-euro stallion market top price Vivino (by Vivaldi), who stands at our stud, is out of a Dancier daughter, St.Pr.St. Desiree.
His dam Floris was highly-placed at competitions for young horses.
His dam sire Floriscount was champion of the dressage index of his stallion performance test with scores up to 10.0, qualified several times for the German Championships and, in 2014, was placed second in the Burg Cup final in Frankfurt with Oliver Oelrich. Since then, the VTV dressage stallion has been placed in Grand Prix classes, ridden by his breeder's daughter, Patricia von Merveldt. His 16 licensed sons include First Deal, who recently received the Oldenburg premium, and the Reserve Champion Cathmore Florian. The mare Fleur became Reserve Champion Mare of the Herwart von der Decken Show in Verden in 2013, was Hanoverian Vice Champion and then came fourth at the German Championships. In 2014, the mare Fräulein Hansemann won the Hanoverian Friedrich-Jahncke Show. At the Oldenburg Elite Mare Show in Rastede, Floriscount's daughter Wega Contessa went to the "Brilliantring". The sporting offspring of Floriscount have already won many dressage competitions at high level.
In third place in the pedigree is the Celle State Stud stallion Rascalino. The Rotspon son was placed three times at the German Championships. At the World Championships for six-year-old dressage horses, he finished fourth. In 2012, he came sixth at the German Championships in Hünxe. Amongst others, Rascalino produced Riverdance/Emma Kanervas/FIN, Grand Prix winner, Rien ne va plus, who was successful with the young rider Anna-Louisa Fuchs, and Racciano, silver medallist at the European Championships in four-in-hand with Mareike Harms.
The licensed stallions Hausherr and Fürst Aurich as well as numerous sport horses come from the Hanoverian line of Freya.
His first foals are eagerly awaited this year.
WFFS negative
Stud Terms
1300 euros + vat for unlimited attempts within one breeding season. If your mare is confirmed not in foal by 1st Oct then you will be entitled to a 50% credit for the following season for the Schockemoehle Stud. If your first order was after 1st July then you will be entitled to a 100% credit. When choosing a stallion from the Schockemoehle Stud we strongly reccommend that you have a second choice Schockemoehle stallion as well because in the busy season mares in Germany take priority and your first choice may not be available.