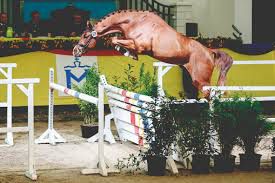 An outstanding technique and bascule as well as phenomenal ability with extremely fast reflexes secured Diablue PS a place in the premium ring at his licensing in Redefin. A real show-jumping champion is maturing, in whom we have high hopes for the future.
Diablue PS is the first licensed son of our double German Champion Diaron, who is still in the fast lane in sport and was placed with Patrick Stühlmeyer in the Youngster Tours of Verden/GER, Neumünster/GER, Zandhoven/BEL and Opglabbeek/BEL. And he almost succeeded in winning a third title at the German Championships.
His dam Stakkariella, sold for 2.4 million euros at the P.S.I. auction to customers in the USA in 2017, won numerous intermediate (M) level competitions for young horses with Patrick Stühlmeyer, competed successfully at the World Championships for young horses in Lanaken/BEL and was placed at the 2019 German Championships in Warendorf. She is the full sister of the internationally successful Stariallo Blue PS/Irma Karlsson/SWE and of the show-jumping World Cup finalist Storiall Blue/Kara Chad/CAN, who was placed in the international Youngster Tour.
A unique pedigree combination
WFFS negative
Diaron

Diarado

Diamant de Semilly

Roxette I

Lenda-Cara

Come On

Lindauway

Stakkariella

Stakkato

Spartan

Pia

Corialla

Chacco-Blue

Farialla
Stud Terms
800 euros + vat for unlimited attempts within one breeding season. If your mare is confirmed not in foal by 1st Oct then you will be entitled to a 50% credit for the following season for the Schockemoehle Stud. If your first order was after 1st July then you will be entitled to a 100% credit. When choosing a stallion from the Schockemoehle Stud we strongly reccommend that you have a second choice Schockemoehle stallion as well because in the busy season mares in Germany take priority and your first choice may not be available.