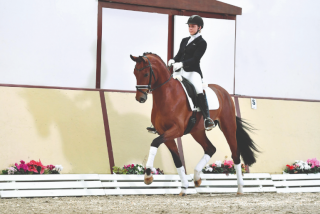 Impressive and completely balanced in the quality of his basic paces, For Donnerhall completely charms his audience. He is from Fürst Jazz's first crop of foals and combines all the features of a good riding horse. Fürst Jazz has already produced the Champion Stallion Fürst Fabelhaft and other licensed and premium stallions. At his stallion performance test and sport tests, Fürst Jazz, who is clearly in the image of his exceptional great-grand-sire Jazz, impressed everyone with his exceptional rideability.
Thanks to his offspring placed in Grand Prix competitions like Sai Baba Plus/Boaventure Freire/POR, Semper Fidelis/Heather Blitz/USA and Syriana/Mary Hanna/AUS, his dam sire Sir Donnerhall I is placed amongst the top 20 of the WBFSH ranking list of the world's best dressage sires. Himself second Reserve champion of his licensing, Regional Champion, record winner of his stallion performance test, Vice World Champion of young dressage horses, German Champion and winner of the main premium, he can refer to almost 100 licensed sons. He has also produced numerous championship-successful offspring, including the double World Champion dressage horse Sa Coeur and the legendary German Championship quartet Sir Heinrich OLD, Cindy OLD, Candy OLD and Caty OLD from the Wendeln Stud.
His grand-dam Florina is the half-sister of Darling (by Donatelli I), victorious at intermediate (M) level, and Rudolfo (by Rubinero). Their half-sister Red-Lady (by Rubinstein I) produced Habanero, who was victorious at advanced (S) level, and the mare Romantica (both by Harvard), who produced the licensed stallion Dream Diamond (by Desperados).
Florencio I, Vice German Champion, double World Champion of young dressage horses and victorious at advanced (S) level, and the Oldenburg stallion Freiherr also appear in his pedigree.
Hanoverian dam line of Seranka, from which descend the licensed stallions Simply Virtual, Richelshagen, Rodomo, Don Greg, Fugato SW, a stallion by Morricone, the Southern German Champion Stallion, Del Re and the Champion Stallion DSP Alpha Royal as well as the Grand Prix stallion Donnerschwee/Kristy Oatley/AUS. Dorothee Schneider's Flying Dancer OLD, who came seventh at the World Championships of six-year-old dressage horses, as well as other sport horses also come from this dam line.
WFFS negative
Stud Terms
800 euros + vat for unlimited attempts within one breeding season. If your mare is confirmed not in foal by 1st Oct then you will be entitled to a 50% credit for the following season for the Schockemoehle Stud. If your first order was after 1st July then you will be entitled to a 100% credit. When choosing a stallion from the Schockemoehle Stud we strongly reccommend that you have a second choice Schockemoehle stallion as well because in the busy season mares in Germany take priority and your first choice may not be available.