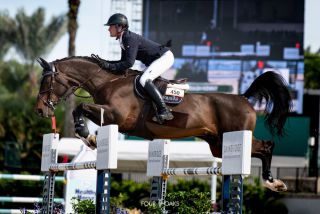 Chatinue himself jumped at 1.60m level representing Mexico and is a son of world-class sire Chacco Blue. In addition, Chatinue is the half-brother of Darragh Kenny's former top stallion Balou du Reventon and the foundation sire Balou du Rouet.

Sire Chacco Blue has been leading the WBFSH ranking for showjumping stallions for several years and distinguishes himself by offspring with unlimited scope and a winner's mentality. Some famous Chacco Blue offspring are Explosion W (Ben Maher), Chalou (Emanuele Gaudiano), Calisto Blue (Daniel Deusser), Chaqui Z (Shane Sweetnam) and Blue Movie (Rowan Willis).

Chatinue's dam Georgia can be considered one of the leading broodmares of this moment. Her son Balou du Rouet is a foundation sire with many approved sons and offspring at the highest level, while another son, Balou du Reventon, ridden by Darragh Kenny, became one of world's most successful showjumpers. Many other direct offspring, grandchildren and great-grandchildren of Georgia competed at international level. Chatinue's direct damline produced several famous showjumpers and breeding stallions, including Lord Sandro DDH (Bart Bles), Corlida (Nicolas Dello Joio), Vertical Limit (Taizo Sugitani), Cabriolet (Jur Vrieling), and Cassius (Luciana Diniz & Keean White).
In his sport career Chatinue was mainly ridden by Mexican riders. The Chacco Blue son jumped up to Grand Prix level ridden by Mario Onate and Salvador Onate and was later successful with both Luis Alejandro Plascencia and Nicolas Pizarro. Ridden by Plascencia, Chatinue also jumped in the CSI5* competitions of Spruce Meadows, Calgary in 2019.

With his brilliant pedigree, extra jumping talent and performances at the highest level, Chatinue is a very valuable addition to VDL Stud's stallion string.

Chatinue: Son of Chacco Blue, half-brother of Balou du Rouet & Balou du Reventon.

Stud Terms
Semen is sold for one mare only. If that mare is not in foal by 1st October, we need an official letter signed by your vet stating that the mare is not in foal. With this letter you can continue to breed for 50% of the stud fee in the following season. There is no refund of the stud fee. All stud fees shown in euros and are subject to UK VAT. The transport of the semen is at the risk of the receiver/mare owner.