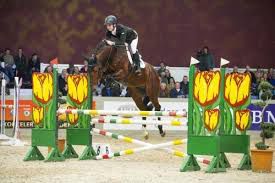 Sire Toulon placed highly in multiple Grand Prix's and World Cup Qualifiers. Next in line is Calvados 'Keur', well-known sire of Grand Prix jumpers. Further in the pedigree of Etoulon are the stallions Le Mexico and Lucky Boy xx. These two stallions are among the documented foundation stallions of the modern KWPN horse.
Down the dam line of Etoulon are proven mares. Dam, Utareusa 'Elite, Preferent', foaled the 'Keur, Sport' mare Atureusa who competes at 1.40m level as well as the 1.45m jumper Dereusa S. Grand dam is the 'Ster, Preferent, Prestatie' mare Brigitte. She produced the Grand Prix show jumper Re Mexico and two other national level jumping horses. Brigitte is also grand dam of the Grand Prix jumper Tereusa. International luminaries from this dam line are: Illusion, Pitareusa, Itareusa, Oteusie, Broken Heart and Amareusa S
As a 3-year old, Etoulon was Reserve Champion of the KWPN stallion inspection and of the stallion test. His total score of 88.5 points included a 9 for his reflexes, technique, scope and potential as a jumping horse.
His amazing jumping technique and reflexes has assigned a designation for Etoulon as one of the Netherlands' most impressive and talented stallions. Already an eye-catcher in the 4-year old stallion competitions, Etoulon won at Enschede, Roosendaal and Zuidbroek. In Zuidbroek he received a 9,5 for his jumping technique in both rounds.
As a 5-year old Etoulon took the spotlight again, becoming the reserve champion of the Stallion Competition - 1.20m class for 6-year olds, Etoulon placed 2nd in the final round at 's Hertogenbosch and placed overall 3rd in the 1.30m/1.35m class.
At international level Etoulon continues to impress under Jur Vrieling with solid results:
1st GP Ommen
1st Youngster finale CSI de Wolden
3rd 1.45m Leszno
4th GP Zuidbroek
5th 1.40m Arezzo
6th 1.50m La Baule
7th GP Indoor Wierden
9th 1.40m Oldenburg
Offspring
In breeding, Etoulon's offspring are also doing extremely well. Already five times Etoulon sired the winner of the Dutch foal championships. His offspring have taken ribbons at several championships and are now making their marks at international shows.

Etoulon has several approved sons, among them Insider VDL and It's Otto with the KWPN.
Etoulon: talent for sport and breeding – in the pedigree and himself
Stud Terms
Semen is sold for one mare only. If that mare is not in foal by 1st October, we need an official letter signed by your vet stating that the mare is not in foal. With this letter you can continue to breed for 50% of the stud fee in the following season. There is no refund of the stud fee. All stud fees shown in euros and are subject to UK VAT. The transport of the semen is at the risk of the receiver/mare owner.