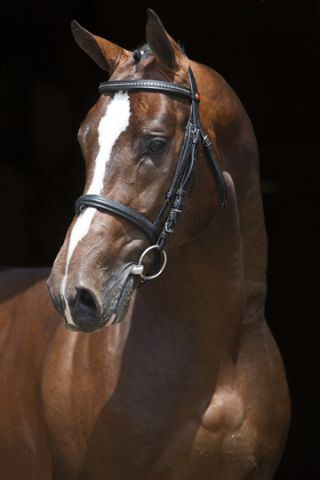 Grand Slam is the all-time top scorer of the KWPN Stallion Test. Brought to this height with a sire lineage of only foundation performance stallions. Sire Cardento won silver medals at the WEG, the European Championship and the Olympic Games plus has many offspring competing at the top: Zacramento, Cue Channa and Cafino as examples. Grandsire, Heartbreaker, is recognized as one of world's best sires. The third sire in Grand Slam's pedigree is the legendary Mr. Blue, who jumped at Grand Prix level and produced top horses like Simon and Zirocco Blue. Numbers 4 and 5 in this pedigree are 'Stallion of the Century' Nimmerdor and top thoroughbred Erdball xx. They provide the base for top performers and producers like Apollo, Just Malone, Goldenbridge, Heartbreaker, Ahorn, etc.
Dam, Wonder A.S., foaled the approved stallion Dallas VDL, who jumps successfully under Jur Vrieling in Grand Prix and World Cup classes. Great-grand dam, Bonnette, is 'Preferent and Prestatie' and produced the Grand Prix jumper Annette. Bonnette is the full sister to the international jumper Drummer.
Grand Slam is a complete stallion with an amazing mentality. He stands out with his technique, reflexes and scope. Grand Slam achieved the all-time top score of 90 points in the KWPN Stallion Test and became convincingly the Champion. For technique and reflexes he earned a 9.5; for scope, rideability, attitude and talent as a jumper he received 9's; for canter and balance he received an 8.
He continues to prove those points were well deserved as he continues his competition career. Grand Slam already won as a 7 year old the CSI1* Grand Prix in Zwolle and last year he continued with his international succes at 1.50m already.
Grand Slam: a true complete stallion
Stud Terms
Semen is sold for one mare only. If that mare is not in foal by 1st October, we need an official letter signed by your vet stating that the mare is not in foal. With this letter you can continue to breed for 50% of the stud fee in the following season. There is no refund of the stud fee. All stud fees shown in euros and are subject to UK VAT. The transport of the semen is at the risk of the receiver/mare owner. Limited chilled semen when the stallion is competing.