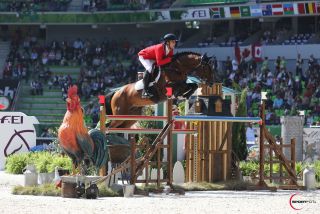 Hardrock Z is a fantastic bred son of Heartbreaker. Heartbreaker is one of the living legends in breeding of showjumpers. The Nimmerdor-son had a spectacular career in sport and developed in breeding as one of the greatest of all time, with sons like Harley VDL, Toulon, Quasimodo van de Molendreef, Padinus and many others. Just like the 'Preferent' awarded Harley VDL, Hardrock Z is a product of the successful combination Heartbreaker x Carthago.

Hardrock Z's dam Carte Blanche Z also produced the international Grand Prix stallion Charlemagne JT Z of Italy's Silvia Bazzani and the approved stallions Be the Freak JT Z and Domingos JT Z. She is also the (great-)granddam of horses like Tabou Z (Victoria Colvin), JK Horsetrucks Leasure Z (Katharina Offel), Corico Z (Angelique Rüsen), Crowntano Z (Judy Ann Melchior) and many other successful showjumpers.

Granddam Monica is also the dam of 1.60m showjumpers Lord II Z (Geir Gulliksen), Zippo Z (Freddie Vazquez) and Camaro Z (Dag Ove Kingsrod) and in addition the well-known showjumper Skjerabergs Larkin (Pal Flam) is closely related to Hardrock Z as well.
Ridden by Venezuela's Emanuel Andrade, Hardrock Z participated at the World Equestrian Games in Caen in 2014 and at the Olympic Games in Rio de Janeiro in 2016. He also participated in the Pan American Games in Toronto in 2015, where he finished 6th individually after taking the lead in the first qualifier.

Hardrock jumped successfully in numerous Grand Prix-competitions at top level, such as in Wellington, Tryon, Calgary, Miami, et cetera. In addition, Hardrock Z has fantastic reflexes, an excellent attitude and an outstanding rideability.
Hardrock Z: has got what it takes
Stud Terms
Semen is sold for one mare only. If that mare is not in foal by 1st October, we need an official letter signed by your vet stating that the mare is not in foal. With this letter you can continue to breed for 50% of the stud fee in the following season. There is no refund of the stud fee. All stud fees shown in euros and are subject to UK VAT. The transport of the semen is at the risk of the receiver/mare owner. Limited chilled semen when the stallion is competing.