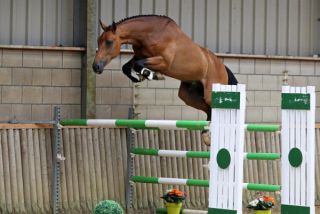 Prices:
Chilled: €800.00
Frozen: €800.00
Stud Fee:
800 euros
Breed:
Colour:
Height:
169cm
Born:
Studbooks:
Zangersheide, Holst. Hann.
Jumping is in his genes with the legendary Olympic Champion Baloubet du Rouet as his father and the top producing Polydor as his grandfather. His mother is the world famous elite, preferent, prestatie and sport mare Krista. She is also mother to the FEI World Champion Taloubet Z and the Zangersheide approved stallions Nadal Hero and Big Star Jr.
Jaloubet is a youthful stallion with a lot of expression, sharpness and scope. He received his approval with the Holsteiner Verband after finishing his stallion test in Neustadt-Dosse with an average score of 8.08. Jaloubet impressed at young horse classes in Germany and received high scores for jumping.

Jaloubet: Baloubet du Rouet son, from the well-known Polydor mare Krista
Stud Terms
Semen is sold for one mare only. If that mare is not in foal by 1st October, we need an official letter signed by your vet stating that the mare is not in foal. With this letter you can continue to breed for 50% of the stud fee in the following season. There is no refund of the stud fee. All stud fees shown in euros and are subject to UK VAT. The transport of the semen is at the risk of the receiver/mare owner. Limited chilled semen when the stallion is competing.