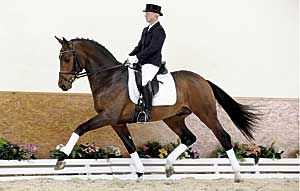 Prices:
Chilled: €1,600.00
Frozen: €1,600.00
Stud Fee:
1600.00
Breed:
Colour:
Height:
168cm
Born:
Studbooks:
Finland, Hanover, Mecklenburg, Oldenburg, Rhineland, Southern German Stud Books, Westphalia
Oldenburg Main Premium Champion 2012.
Foundation has been very popular for breeders from the start, because he has such a unique charisma, perfect active hind legs, a wonderful uphill canter and a fantastic character. He finished his 30-day test with dream marks: twice a 10,0 for trot and canter in the final examination, a 9,5 for character and willingness to perform and a 9,25 for rideability. With an average mark of 9,13 for character and 9,57 for trot and canter Foundation completed his test in an excellent manner. He won Dressurpferdeprüfungen with Anja Engelbart and Matthias-Alexander Rath, qualified for the Bundeschampionship in Warendorf and is now trained up to advanced level.
At the Oldenburg Stallion Days in 2012 in Vechta he added another highlight to his still young career. After his 30-day test and his first crop of foals, Foundation was the undisputed Ia-main premium champion of the stallions with emphasis on dressage. Several foals from his first crops were sold for top prices at the auctions in Vechta and Verden. He made his debut as a sire in the autumn of 2014. Three of his sons from the first crop were licensed, one of them with a premium. His sire Fidertanz, glorious champion of the NRW-licensing 2004, is successful up to Intermediaire I and has sired 46 licensed sons so far. Foundation is the full brother of the licensed stallions Fiderstar (finalist at the Bundeschampionship 2011) and Flavio Briatore (premium sire Verden 2014, selling price 270.000 Euro). He stems from the Hanoverian mare family 569/Paninka, from which come 30 licensed sons and, among others, Isabell Werth´s Apache, multiple Grand Prix winner, as well as the internationally successful Albertino/Lars Nieberg, Cheyenne 29/Rene Tebbel and The Sixth Sense/Thomas Frühmann. Grand dam Weniga produced the winner of 17 advanced level/S level competitions Queeny, who is successful with Victoria Michalke in Grand Prix competitions as well as the winner of St. Georges Lord/Kathleen Keller.
Foundation: a genius of movement with exemplary rideability
Fidertanz

Fidermark

Florestan I

Watonga

Reine Freude

Ravallo

Fruhlingssonne

Donna Doria

De Vito

De Niro

Elfengold

Weniga

Andiamo

Wenita
Stud Terms
Chilled & frozen semen sold for one mare only. 50% credit will be given the following year for mares not in foal. Up to 2 doses available for the stud fee. If your stallion is not available at anytime they will substitute another similar priced stallion. Stud closes 31st July.