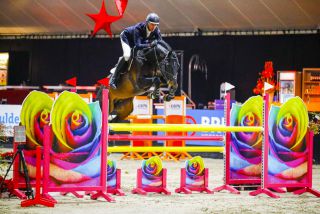 Jardonnay's pedigree exemplifies performance breeding. Sire, Kannan, has been one of the world's best producers of show jumpers. Progeny include Quabri de l'Isle, Quorida de Treho, Molly Malone V, Diva II and previously Olympic champion Nino des Fuissonnets. The influence of the 'Preferrent' stallion Indoctro has been huge among these offspring, as well as the stamp of great-grandsire Lux – regularly sought when breeding great show jumpers.
The combination of the powerful Kannan with the beautiful mare, Duzella (dam of Jardonnay VDL) seems to be outstanding. She, herself, is a celebrity as well. In 2011 Duzella was the Dutch Champion of the 3-year old mares in Ermelo. One year later, Duzella's sister, Ella, was the Brabant Province Champion mare further confirming this damline. Jardonnay's grandam, Uzella, was awarded 'Keur' and 'Preferent' in addition to producing the 1.45m show jumper Bocelli ridden by Guy Goosen. Great-granddam, Ozella produced Dubai, a gelding by Cardento who is performing at Grand Prix level with Mavis Spencer. The 1.50m show jumper Tavarone is another Ozella son.
Designated 'Champion' of the 2017 KWPN stallion show in 's-Hertogenbosch, Jardonnay VDL went on to prove his quality receiving the KWPN license. Scoring 84 points in the KWPN Stallion Test, the scores for scope, canter and reflexes were awarded 8.5, with the same for rideability, dedication and talent as a showjumper.
Jardonnay VDL is an eye-catcher with his fantastic type and his three good gaits. He has a wonderful attitude and jumps with enormous scope and a super technique. These qualities he has shown as well in the stallion competitions where he constantly performs with good results.

Jardonnay: A True Champion
Stud Terms
Semen is sold for one mare only. If that mare is not in foal by 1st October, we need an official letter signed by your vet stating that the mare is not in foal. With this letter you can continue to breed for 50% of the stud fee in the following season. There is no refund of the stud fee. All stud fees shown in euros and are subject to UK VAT. The transport of the semen is at the risk of the receiver/mare owner. Limited chilled semen when the stallion is competing.