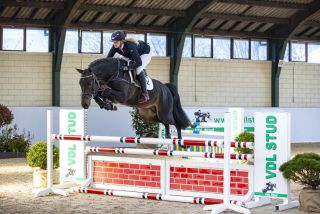 Bred by the VDL Stud, Landino made an excellent impression at both the KWPN and NRPS Stallion Show jumping with a lot of ease, light-footedness and athletic ability.
Known as one of the best breeding sons of the legendary Stakkato, sire Stakkato Gold has over thirty offspring competing at the international Grand Prix level. His offspring stand out due to their reflexes, technique and ability. Landino 's grandsire is Cilton, a son of the legendary Calando I, was lightly used in breeding but has produced a number of striking jumping talents. Additionally, the pedigree of Landino consists of the legends Nimmerdor and Ladykiller xx.

Landino also hails for one of the most successful breeding lines of the VDL Stud. Dam Sancara VDL has also produced the international Grand Prix showjumper Aksai Chin VDL ridden by Suzanne Tepper and Jami Jensen. Granddam Zancara is one of the best broodmares in the Netherlands, she has produced no less than five 1.60m showjumpers, including the approved stallions Pessoa VDL, Montreal VDl and most notably the Olympic Silver medallist and World Champion Bubalu VDL ridden by Jur Vrieling. Zancara is also the dam to the approved stallion Great Pleasure and stands as the base of Grandprix jumpers Exxon Hedonist (Jérôme Guery), Cika (Jens van Grunsven), Garrincha Hedoniste (Wilm Vermeir), Brooke van de Zuuthoeve (Richie Moloney), Tristan Horta Z (Virginie Thonon), Dakar VDL (Tina Di Landri & Shawn Casady) and Sherlock CCDK (José Thiry). Numerous Grand Prix showjumpers and approved stallions are also out of the famous Holsteiner line 474a, including Verdi TN (Maikel van der Vleuten), Claire Z (Pieter Devos), Vingino (Abdel Saïd) and N-Aldato (Emile Hendrix).
Invited to for the KWPN performance test, Landino earned his breeding license at the NRPS. Like most Stakkato Gold offspring, Landino is a modern showjumper with the reflexes to be competitive and the ability to succeed at the highest level.

Landino : A son of Stakkato Gold out of one of world's leading damlines
Stud Terms
Semen is sold for one mare only. If that mare is not in foal by 1st October, we need an official letter signed by your vet stating that the mare is not in foal. With this letter you can continue to breed for 50% of the stud fee in the following season. There is no refund of the stud fee. All stud fees shown in euros and are subject to UK VAT. The transport of the semen is at the risk of the receiver/mare owner. Limited chilled semen when the stallion is competing.