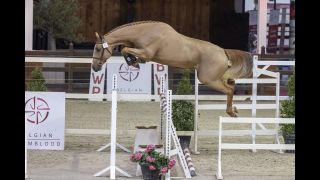 Prices:
Chilled: €800.00
Frozen: €0.00
Stud Fee:
800 euros available April 2021
Breed:
Colour:
Born:
Studbooks:
BWP
Soleil Optimus was without a doubt one of the eye-catchers at the BWP Stallion Show 2021; with his sharp reflexes, excellent technique and excellent pedigree, the Ermitage Kalone son stood out from the crowd. Sire Ermitage Kalone is a very promising son of top sire Catoki and comes from a successful, originally Anglo-Arabian dam line. Ermitage Kalone's dam Bellaventure Kalone is a daughter of Kannan and a half-sister of Grand Prix show jumper Prestige Kalone. Soleil Optimus's grandfather Calvados put himself on the map in breeding, while great-grandfather Galoubet A is one of the founders of French showjumping horse breeding.

Soleil Optimus also comes from a magnificent sports family; dam Letoile du Chateau jumped at 1.50m level under Jean Le Monze and is a half-sister of the legendary show jumper Itôt du Chateau ridden by Edwina Tops-Alexander. Among the Australian, Itôt became one of the most winning show jumpers of all time. Grandam Sophie du Chateau also produced five Grand Prix show jumpers and numerous international show jumpers. Dozens of 1.60m show jumpers are closely related to Soleil Optimus, such as Volnay du Boisdeville, Tinka's Hope, Amant du Chateau, Vitot du Chateau, Calimero of Colors, Show Show and many others.

Soleil Optimus excelled at the BWP Stallion Show with his fantastic reflexes, light-footedness and excellent technique. He also showed himself to be an athletic, modern show jumper who always makes the same jump with great ease.

Soleil Optimus: the extremely talented cousin of legend Itôt du Chateau
Stud Terms
Semen is sold for one mare only. If that mare is not in foal by 1st October, we need an official letter signed by your vet stating that the mare is not in foal. With this letter you can continue to breed for 50% of the stud fee in the following season. There is no refund of the stud fee. All stud fees shown in euros and are subject to UK VAT. The transport of the semen is at the risk of the receiver/mare owner. Limited chilled semen when the stallion is competing.