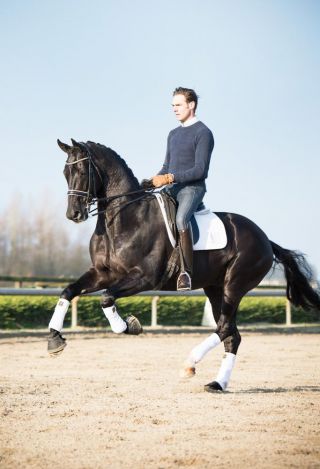 Hennessy combines the genes of three of world's best dressage sires: De Niro, Jazz and Ulft. For years both De Niro and Jazz led the WBFSH ranking for dressage sires and both performed successfully at Grand Prix level. De Niro is considered one of Germany's most valuable dressage patriarchs, begetting world-famous horses like Desperados FRH, Delgado and D'Agostino FRH. Grand sire Jazz has been indispensable in the breeding of dressage horses and is still famous as the sire of international stars Glock's Johnson TN and Jerich Parzival (the latter born also from the proven combination Jazz x Ulft).
Dam, Silhouette, has been awarded 'Elite and Preferent' by the KWPN and passed the performance test for mares successfully with an 8 for her canter. In addition, Silhouette is the full sister to the approved stallion Ragtime, ridden to Grand Prix level by the American rider Christina Robinson. Besides many successful dressage horses, several international jumpers descend from this line.almares
Beauty is as beauty does! A glossy black, Hennessy was approved by the KWPN with dream scores: a total of 82 points composed of a great canter, easy rideability, excellent posture and balance - all rewarded with 8.5's. For his talent as a dressage horse Hennessey was marked 8.5 with his walk and trot receiving 8's. For the Champion of the Dressage Stallion Approvals it was Hennessy that stood in the top place.
Hennessy has a wonderful character and under-saddle he is receiving top scores and remarks. Under Remy Bastings, Hennessy moves with suppleness and rhythm creating a lovely picture. In the stallion competition in Ermelo, Hennessy finished 4th with a score of 82 points. As a 5-year old he performs very consistently in the stallion competitions. In all classes he received an 8 for his gallop.
Hennessy: a gorgeous black that combines world's best sires in his pedigree
Stud Terms
Semen is sold for one mare only. If that mare is not in foal by 1st October, we need an official letter signed by your vet stating that the mare is not in foal. With this letter you can continue to breed for 50% of the stud fee in the following season. There is no refund of the stud fee. All stud fees shown in euros and are subject to UK VAT. The transport of the semen is at the risk of the receiver/mare owner.