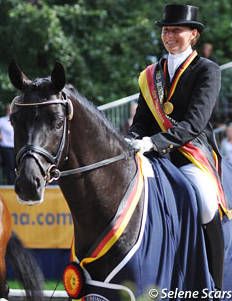 Prices:
Chilled: €2,000.00
Frozen: €2,000.00
Stud Fee:
2000.00
Breed:
Colour:
Height:
172cm
Born:
Studbooks:
Brandenburg-Anhalt, Denmark, Finland, Hanover, Mecklenburg, Oldenburg, Poland, Rhineland, Southern German Stud Books, Westphalia, Sweden
A phenomenon equally for breeding and for sport
This stallion is pure fascination. Equipped with a maximum amount of easy elegance, suppleness and elasticity, he is the embodiment of the modern dressage horse. Sold as a foal at auction he achieved price peak, being sold for a sum of 110.000 Euros. He was champion of his licensing, stallion performance test winner with a sensational 154,98 points in the dressage index (16 x 9.0 and better, as well as 10,0 for rideability) and champion of the Bundeschampionship of five year old dressage horses in 2011. He won the Championship with top marks: 9.5 for trot and overall impression. 10,0 for walk. 9.0 for canter and suppleness. Prior to that, he became Oldenburg Landeschampion with a mark of 9.1. In 2012, he put his quality again to the test with high placings at Landes- and Bundeschampionships and at the World Championships of six year old dressage horses. In 2013, he won his first advanced level/ Prix St. Georges competitions. At a gripping ceremony, within the framework of the Oldenburg Althengstparade (late stallion parade), he was celebrated as the VTV dressage stallion of the year. At the German foal championships he was sire of the champion colt and sire of another colt among the top ten. For years, he has sired top foals, many of them reaching six digit selling prices at German auctions. His success is predetermined: Sire Fürst Heinrich was dressage horse World Champion. In his short time at stud he sired 49 sons and 56 advanced level/S level dressage horses. The dam line of Mon Amour, which is of French origin, has what it takes: from it stem Sieger Hit, the Oldenburg champion stallion 2007, Hot Spot, the second reserve champion, Desiderio, multi-fascinating stallion, expensive top foals and many more. Inbred with dressage hero Donnerhall, Fürstenball´s pedigree is enjoying an influx of blood further down in the pedigree with Holstein and thoroughbred genes.
Fürstenball: a unique heredity genius in current dressage horse breeding
Stud Terms
Chilled & frozen semen sold for one mare only. 50% credit will be given the following year for mares not in foal. Up to 2 doses available for the stud fee. If your stallion is not available at anytime they will substitute another similar priced stallion. Stud closes 31st July.