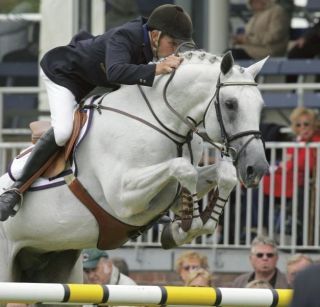 Prices:
Chilled: €0.00
Frozen: €2,000.00
Stud Fee:
2000 euros frozen semen only
Breed:
Colour:
Height:
172cm
Born:
Studbooks:
KWPN, SWA, SF, UNIRE, Holst., SBS, Hann, ISH., BH
The Holsteiner stallion Cardento has everything: a top pedigree, the capacity to jump at Olympic level and the ability to pass his talent on to his offspring. Besides this he has a golden character.
Cardento has proven himself at the highest level winning a Silver medal at the World- and European Championship and the Olympics of Athens. He won the Nations Cup of Rome, Dramman and Ikast. Individually he won, among others, the Grand Prixs of Holte, Helsingborg, Angelholm, Gera, Kungsbacke (2x) and placed 2nd in Aarhus. Cardento placed 6th in the Worldcup Qualifier of Göteborg, placed 4th in the German Classics in Hannover and 6th in the Grand Prix of Stockholm.
Cardento: The Olympic stallion with three silver medals - plus - prepotent for quality
Stud Terms
Semen is sold for one mare only. If that mare is not in foal by 1st October, we need an official letter signed by your vet stating that the mare is not in foal. With this letter you can continue to breed for 50% of the stud fee in the following season. There is no refund of the stud fee. All stud fees shown in euros and are subject to UK VAT. The transport of the semen is at the risk of the receiver/mare owner.