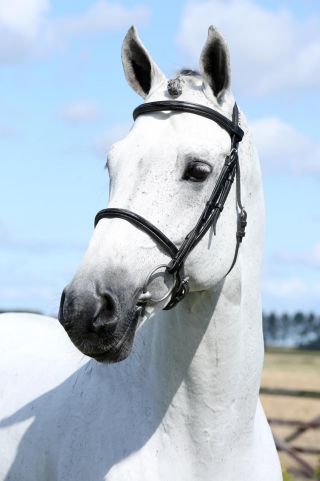 Prices:
Chilled: €0.00
Frozen: €1,500.00
Stud Fee:
1500 euros frozen semen only
Breed:
Colour:
Height:
170cm
Born:
Studbooks:
Westfalen
With the addition of Chalcedon, VDL Stud managed to add another Grand Prix jumping stallion to the catalogue. This Calido I-son jumps at top level with Jur Vrieling and seems to develope more and more in the years to come. In 2019, Chalcedon successfully jumped his first five-star Grand Prix and also finished several times in the top of the standings of several international classes.

Chalcedon's sire Calido I is one of the most successful stallions of Holsteiner breeding and carries the valuable genes of the famous Cantus. Calido I produced nearly one hundred 1.60m showjumpers and many approved sons, including Coupe de Coeur (Ludger Beerbaum), Cero I (François Mathy Jr), Caleri II (Zuzana Zelinkova), Crelido (Stein Endresen) and DSP Cashmoaker (Denis Nielsen) . Chalcedon's grandsir Raphael is a son of the legendary Ramiro and we know him as the father of Tenerife VDL and the top showjumper Radiator ridden by René Tebbel in the '90s and early '00s.
Chalcedon's dam Raphaela also produced the successful showjumpers Camptra and Ciao Bavaria, who was ridden by Justine Fehn up to 1.45m-level. In addition, Raphaela is the granddam of the 1.60m-showjumper Con Caya, which was first ridden by Philipp and Maximilian Weishaupt at Grand Prix level and is nowadays ridden by the Finnish Noora Forsten.
Ridden by Jur Vrieling, Chalcedon stands out with his enormous power and scope, which he then combines with a good way of jumping. In 2019, Chalcedon finished in second place in the two-star Grand Prix of Valkenswaard and finished on the podium of the 1.50m classes in both Lanaken and Treffen. In addition, Chalcedon successfully made his five-star debut and participated in the Global Champions Tours of New York, Monte Carlo and Stockholm, as well as the Global Champions Tour Play Offs in Prague.
Chalcedon: interesting Grand Prix-showjumper with lots of potential
Stud Terms
Semen is sold for one mare only. If that mare is not in foal by 1st October, we need an official letter signed by your vet stating that the mare is not in foal. With this letter you can continue to breed for 50% of the stud fee in the following season. There is no refund of the stud fee. All stud fees shown in euros and are subject to UK VAT. The transport of the semen is at the risk of the receiver/mare owner.