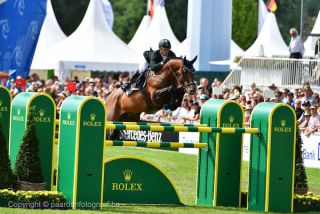 Prices:
Chilled: €0.00
Frozen: €1,600.00
Stud Fee:
1600 euros frozen semen only
Breed:
Colour:
Height:
165cm
Born:
Studbooks:
BWP, NAS
Chaqui Z comes from the well-known breeding of the Morsink family and at a young age ridden by Gerben Morsink he already jumped fantastic and was high placed the World Championships for 7-year-olds in Lanaken. Through daughters of the foundation sires Quinar and Carthago, Chaqui Z's pedigree goes back to the famous mare Dakina, who stood at the basis of famous horses like Zekina Z, Lexicon, Carthino Z, Cartaire Z, Faithfull and Navarone Z.

In addition, Chaqui's oldest son Rapidash already jumps at 1.60m-level with Gerben Morsink. All in all, Chaqui Z seems to be a very interesting acquisition for breeding.
Chaqui Z is among Ireland's best showjumpers for many years and especially at American soil he was placed numerous times in international Grand Prix-competitions, Nations Cups and other top classes. One of the highlights was undoubtedly the gold medal with the Irish team at the European championships in Gothenburg.

Chaqui Z: performance in his pedigree and in the ring

Stud Terms
Chaqui Z is available exclusively for Europe at VDL Stud. Chaqui Z is only available through frozen semen. The fixed stud fee is € 500, -. At pregnancy there is still € 1100, - so that the total stud fee of € 1600, - comes out. If you switch over to another stallion in the meantime, the fixed costs of € 500 for Chaqui Z remain due