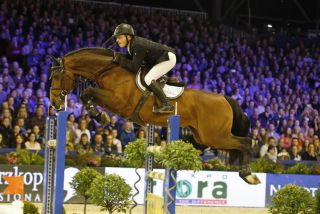 Prices:
Chilled: €1,600.00
Frozen: €0.00
Stud Fee:
1600 euros
Breed:
Colour:
Height:
166cm
Born:
Studbooks:
KWPN, HOLSTEIN, HANNOVER, MECKLENBURG, OS, SELLE FRANÇAIS
Carambole is among the greats of his generation. In sport, the impressive stallion performed phenomenal with Willem Greve from a young age; his spectacular victory in the Grand Prix of Jumping Amsterdam will be remembered by many. But also his Grand Prix victories in Knokke, Drachten, Hardelot and Wierden were admirable, as were his performances in the Nations Cups of Rotterdam, La Baule, Falsterbo and Copenhagen. Once again in 2020, Carambole showed to belong to world's very best by finishing 4th in the Global Champions Tour of Valkenswaard.
Carambole himself is a son of the foundation sire Cassini I, who already produced so many top stallions, such as Cumano, Berlin and Cabrio van de Heffinck. Carambole's grandsire Concerto II brings in the valuable genes of Contender and great-grandsire Sir Shostakovich xx contributes some thoroughbred input.
In breeding, Carambole convinces in every way. Many offspring are already jumping at top level, of which Hello Senator of Scott Brash is probably the best known. As a 7-year-old Hello Senator won bronze at the World Championships in Lanaken and later he became a world star with, among others, a victory in the Grand Prix of St. Tropez, second place in the Rolex Grand Prix of Geneva and third place in the World Cup of Stuttgart. Other Grand Prix jumping offspring of Carambole include Elien (Katharina Offel), Frasier (Dennis van den Brink), Elina (Charles Luyckx), Frederiks (Christoph Könemann), Formidable (Willem Greve), La Caramba (Rodrigo Pessoa) and Flambeau (Harry Marshall).
Stud Terms
Semen is sold for one mare only.Where frozen semen is supplied, up to three doses are made available for the above stud fee to achieve one pregnancy. If that mare is not in foal by 1st October the stud fee minus 200 euros and outstanding delivery will be refunded. A written not in foal-agreement issued by the veterinarian must be submitted before 1st October. All stud fees shown in euros.