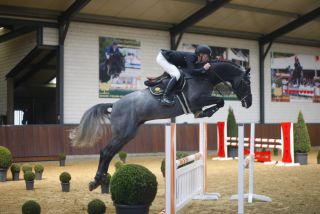 Prices:
Chilled: €750.00
Frozen: €0.00
Stud Fee:
750 euros
Breed:
Colour:
Height:
168cm
Born:
Studbooks:
Zangersheide
Dorian Grey TN Z's sire Dominator Z is without a doubt the up-and-coming stallion of the moment. From an early age, expectations were high with this son of Diamant de Semilly, but he seems to live up to these sky-high expectations in both sport and breeding.
Dominator Z stood out at the various stallion approvals with his talented sons and ridden by Christian Ahlmann, the just 10-year-old stallion jumps phenomenally at the highest level. Dominator Z finished second in the Grand Prix of Paris, second in the World Cup of Madrid and second in the World Cup of Leipzig. Dorian Grey TN Z combines Dominator Z with another great stallion from Studfarm Zangersheide: the famous Chellano Z.

Dorian Grey TN Z's dam Cegetti Z jumped successfully in sport herself and produced the international showjumper Darchello B ridden by Italy's Paolo Zani. The Grand Prix showjumpers Phyra Z and Partner V2 were also bred from this same damline.

Dorian Grey TN Z earned his breeding license in the spring of 2019 at Studbook Zangersheide. With loose jumping, he stood out due to his excellent reflexes and great jumping technique. Dorian Grey TN Z has now made his competition debut in the Belgian Pavo Stallion Competition and also catches the eye under saddle with his quality, technique, light-footedness and athletic ability.
Stud Terms
Semen is sold for one mare only.Where frozen semen is supplied, up to three doses are made available for the above stud fee to achieve one pregnancy. If that mare is not in foal by 1st October the stud fee minus 200 euros and outstanding delivery will be refunded. A written not in foal-agreement issued by the veterinarian must be submitted before 1st October. All stud fees shown in euros.