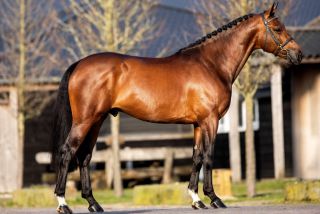 Estoril du Cedre (Jarnac x Diamant de Semilly x Laudanum x)
Estoril du Cedre is born out of one of the best dam lines of France. His grand dam Briseis d'Helby produced four approved stallions and eight grand prix jumping horses, of which 3 have performed at 1.60 m. level. The most famous offspring of Briseis d'Helby is without a doubt the approved grand prix stallion, Quickly de Kreisker. This son of Diamant de Semilly and full brother to Estoril du Cedre's mother Urganda de Kreisker, jumped at the highest possible level with his rider Abdelkebir Ouaddar, and for a while they were the number one of the world jumping ranking. Quickly de Kreisker won many international grand prix class and world cups at Al Ain, Sharjah, Paris, Rabat, Tetouan, Vejer de la Frontera, LeTouquet, Fontainebleau, Macon Laize, et cetera.
Estoril du Cedre is a direct son of the famous Selle Français-stallion Jarnac. Ridden by the Spanish rider Julia Arias, the stallion Jarnac participated in the European Championships of Madrid in 2011. In international breeding, his son, the anglo arab, Ryon d'Anzex has already produced many horses that can jump at the highest level. For example: Qurack de Falaise HDC (Kevin Staut & Delphine Perez), Reggae du Tillard (Julio Arias), Soprano de Grandry (Florian Angot), Uppercut Libellule (Dominique Hendrickx), Ulhane de Conde (Carlos Lopez), et cetera. Ryon d'Anzex himself participated in the World Equestrian Games of The Hague with Fernando Fourcade in 1994.
Estoril du Cedre jumps with a lot of power and jumping ability.
Stud Terms
Semen is sold for one mare only.Where frozen semen is supplied, up to three doses are made available for the above stud fee to achieve one pregnancy. If that mare is not in foal by 1st October the stud fee minus 200 euros and outstanding delivery will be refunded. A written not in foal-agreement issued by the veterinarian must be submitted before 1st October. All stud fees shown in euros.