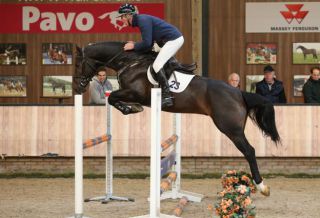 In the performance test Iniesta TN was able to convince over and over again with his extra canter, power, rideability and overall potential as a showjumper. He is approved for the KWPN with 82.5 points and is among the best of his year. His natural ability is no surprise given his strong pedigree. His sire Starpower TN debuted at the age of eight successful at 2*-Grand Prix with Zoï Snels and makes a big impression with his scope, technique and carefulness.
Damsire of this promising Iniesta TN is the valuable breeding stallion Padinus, who stands out as a sire due to superior products as Admara 2 (Carlos Enrique Lopez), Aristoteles V (Jonathan McCrea), Wonder Why (Spencer Roe) and Sterrehof's Baccarat (Marc Houtzager). Dam Wiennie is a 3/4 sister of the Danish stallion Heartbeat (Heartbreaker), who has performed with Torben Frandsen at international 1.50m-level and was named Danish stallion of the year in 2013, as well as the international 1.45m-showjumper Spetter (s.Heartbreaker) of Jody Bosteels. Granddam Elly is also granddam of the international 1.50m horses Randal (s.Calvados) of Emiliano Liberati and Clon Cooper (s.Lord Z), who took part in the American Young Riders championships with Santiago Brandolino. Besides that, Elly is a half-sister of the international showjumper B.Jonggor (s.Le Mexico) ridden by Eric Willemsz Geeroms and she is in the damline of the Hannoverian approved 1.50m jumping stallion Euro Sport Heartbreaker (s.Heartbreaker) as well. This makes Iniesta TN closely related to a series of very successful sporthorses and that, combined with his own undoubted talent, makes him a great promise for both sport and breeding.
Stud Terms
Semen is sold for one mare only.Where frozen semen is supplied, up to three doses are made available for the above stud fee to achieve one pregnancy. If that mare is not in foal by 1st October the stud fee minus 200 euros and outstanding delivery will be refunded. All stud fees shown in euros.