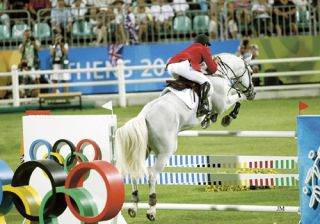 Clinton was one of the "eye-catchers" at the stallionshow in Oud-Heverlee in Belgium in 1996. Clinton combines superior conformation, with excellent movements and superb jumping ability. His sire Corrado won several Worldcup Qualifiers with Franke Sloothaak and was the stallion that won the most prizemoney as an approved stallion. Corrado has around ten approved stalli-ons such as Coriano, Corofino, Calmaro, Contago, Corraldo. Clinton's dam Urte performed at national level with her owner, however, Clinton's granddam is more famous. She jumped suc-cessfully at international level and won around DM 50.000,-- with Karsten Huck and Dirk Schr?der under her sports-name Olympia.

Grandsire Masetto has the famous bloodlines of Moltke and Cottage Son and is known as a producer of dressage horses. Clinton had a very good Performance Test in Oud Heverlee, where he showed a lot of quality as a showjumper. Clinton participated successfully in the Classic Cycle for four and five year olds. Clinton and his rider Dirk Demeersman had a successful year in 2003. They won the Grand Prix of Lummen and were 2nd in the Nations Cup of Aken, 2nd in the national championship of Belgium and 7th in the worldcup qualifier of Verona. From his first crop incredibly 3 sons were approved, Upsilion, Utrillio and President.

Clinton became 3rd in the individual ranking of the Olympics in Athens with Dirk Demeersman .Clinton was second in the prestigieus Grand Prix of Aachen in 2005. Clinton has three approved sons with the kwpn; Withaker, Zacharov and Eldorado van de Zeshoek. Clinton's offspring have started to jump as well as their father like Codar and Alexander Onischenko and Cornet Obolensky and Marco Kutscher, who both participated in the Hong Kong Olympics, as well as Danny Boy (Beezie Madden), Vivaldo van het Costerhof (Roger Yves Bost), Via Vola (Beezie Madden) and Cornet Obolensky and Marco Kutscher. Last two mentioned offspring of Clinton have participated in the nation cups teams of the usa and Germany in 2011.
Corrado

Cor de la Bryere

Rantzau

Quenotte

Soliel

Capitol I

Kuerette

Urta

Masetto

Montanus

Emita

Ohra

Langraf I

Brikscha-Raimond
Stud Terms
Semen is sold for one mare only.Where frozen semen is supplied, up to three doses are made available for the above stud fee to achieve one pregnancy. If that mare is not in foal by 1st October the stud fee minus 200 euros and outstanding delivery will be refunded. All stud fees shown in euros.