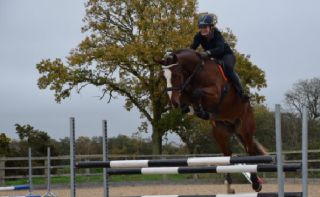 Prices:
Chilled: €0.00
Frozen: €0.00
Stud Fee:
£400 + COLLECTION FEE + VAT
Breed:
Colour:
Height:
16.1h
Born:
NPS Flintoff Blue is a homebred stallion by the world famous Plot Blue, out of a mare by a mare by Calvados.
Plot Blue needs no introduction - ridden by Marcus Ehning he was winner of the world cup final in 2010, and numerous nations cups and Grand Prixs, he was the only horse to jump double clear in the nations cup at Hickstead 2011. He has won the Rolex masters in Paris, the Lyon Equita masters, and the Munich championships. Fully proven as a competition stallion, his first foals were born in 2010 to a very limited number of mares, and in 2011, and 2012 he was available to just twelve mares in the UK, Flintoff BlueL being one of these rare foals.

Plot Blue himself is by the amazing stallion Mr Blue who enjoyed an impressive career as a Grand Prix jumper, produced a relatively large number of international show jumpers from just a few breedings. In addition, Mr. Blue is the sire of world-class horses,n such as BMC Van Grunsven Simon (3rd in 2011 World Cup), VDL Groep Sapphire B, VDL Groep Santana B, BMC Okometa, and VDL Groep Parmala Douche. Furthermore, Mr. Blue is also the sire of the approved: Zirocco Blue ; and this year, three Mr Blue sons plus two grandsons were selected for the performance test.
Mr Blue's daughters have shone in the Dutch mare inspections. Thirty seven have been accepted into the Studbook, and more than half of them boast a conformation predicate: eight ster mares, six provisional keur mares, three keur mares and two elite mares. Twenty two of his daughters have earned the sport predicate and 13 the Prok predicate.
On Flintodd Blue's mother line is another very good breeding stallion in Calvados. Calvados had some of the topmost French performance bloodlines. he was sire of many top class show jumpers, which include british horses, Royal Rose with Steven and Ellen Whitaker, Typhoon S with Max Routledge  and Tadmsu who was competed very successfully by the legend John Whitaker.
NPS Flintoff Blue is a really nice horse he is so willing, and loves to learn, he has plenty of scope with carefulness to match, will be competed lightly this spring before going to stud.
Stud Terms
Live foal guarantee. Fresh chilled and frozen semen available