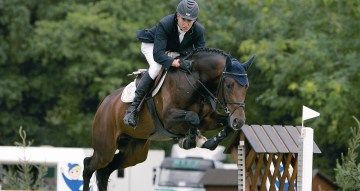 Prices:
Chilled: €2,000.00
Frozen: €2,300.00
Stud Fee:
2300.00
Breed:
Colour:
Height:
172 cms
Born:
Studbooks:
Finland, Mecklenburg, Oldenburg, OS-International, South German Stud Books, Westphalia
A quality stallion with huge scope and courage for the highest demands.
Even as a young stallion he is producing many quality foals. Well defined in his lines, Conthargos' first crops of foals have been of superior quality. His progeny are large in frame, sporty and athletic. In 2012, his son Courtier, a fantastic show jumper, was licensed in Vechta and sold to Moritzburg to stand at stud. To date, he has sired five licensed sons, amongst them Con Rouet, Conthallon Rouge and Conthinder.
His first crop of foals have made a successful debut in show jumping and have, in line with their age, won Springpferdeprufungen up to intermediate level. Conthargos possesses all that a show jumping breeder needs: courage, plenty of scope, inspiring technique, willingness to perform and natural talent. In 2008, he was superior champion at the strong Dobrock tournament with a score of 9,5and effortlessly qualified for the Bundeschampionship.
His sire Converter I won 22 Springpferdeprufungen up to intermediate level/M level with marks up to 9.0. He became Oldenburg Landeschampion in 2005, was placed at the Bundeschampionship and was second best show jumping stallion at the World Championships in Lanaken. From his oldest progeny, no less than 25 were successful at advanced level/S level in 2004. More than 180.000 Euros have been won in show jumping by descendants of Converter I. Dam sire Carthago took part in the Olympic Games in Atlanta 1996 and sired more than 267 advanced level/S level show jumpers, who have earned more than 4 Million Euros so far. From Conthargos' dam line, which is of French origin, come Latus I, Sandro and Colorado AA, sires exclusively from our stallion station and the internationally successful show jumper Nike.
Converter

Contender

Calypso II

Gofine

Fontirell

Silvio I

Fontaene

Cajandra Z

Carthago Z

Capitol

Perra

Jalanda

Latus

Jandra
Stud Terms
Chilled & frozen semen sold for one mare only. 50% credit will be given the following year for mares not in foal. Up to 2 doses available for the stud fee. If your stallion is not available at anytime they will substitute another similar priced stallion. Stud closes 31st July.