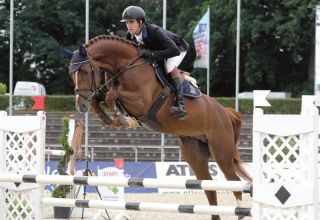 Prices:
Chilled: €1,500.00
Frozen: €1,500.00
Stud Fee:
1500.00
Breed:
Colour:
Height:
169cm
Born:
Studbooks:
OS-International, Mecklenburg, Rhineland, Westphalia, Southern German Stud Books
Stallion performance test winner with record results
Chacfly is our special debutant of the 2017 breeding season: With the impressive and unprecedented final score of 9,49, this elegant, athletically built chestnut finished his 50-day-test in Adelheidsdorf in November 2015. For six individual criteria, the maximum mark of 10 was given. His rideability was consistently marked with 9,5 from the judges and the test rider. Before that, Chacfly was several times victorious in show-jumping classes.
His incredible capacities on courses are clearly sketched out with the extraordinary performance pedigree: The sire Chacco-Blue, in the meantime sire of many internationally successful show jumping horses, was victorious in international Grand Prix's, among others in Neumünster 2012 the third place in Aachen, before leaving the scene far too early. Chacco-Blue sired more than 30 licensed sons and 183 advanced level/S level show jumpers, who have so far won more than 1,31 million eurosand placed their father in eighth place in the 2016 WBFSH world ranking.
Chacfly represents the Holstein line 5819, that produced, amongst others, the licensed stallions Casino (privately-owned stallion NL, international show-jumping success with Morten Djupvik/NOR), Charriol (privately-owned stallion Bad.-Wttbg.), Landioso (privately-owned stallion Bad.-Wttbg., NL, NZL), Le Coeur (privately-owned stallion Oldbg., Mecklbg., Hess.), Tiépolo (privately-owned stallion Bay.), Weltjunge CH (privately-owned stallion SUI) and Zunftiger (privately-owned stallion Holst.), as well as the internationally successful show-jumping horses Comme Ci Comme Ca/Cora Ackermann-Ripke and Toi Toi Toi/Jürgen Kurz.
Chacfly: A better performance is hardly conceivable
Stud Terms
Chilled & frozen semen sold for one mare only. 50% credit will be given the following year for mares not in foal. Up to 2 doses available for the stud fee. If your stallion is not available at anytime they will substitute another similar priced stallion. Stud closes 31st July.