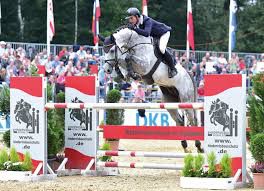 Prices:
Chilled: €2,000.00
Frozen: €2,000.00
Stud Fee:
2000.00
Breed:
Colour:
Height:
172cm
Born:
Studbooks:
Mecklenburg, OS-International, Rhineland, Southern German Stud Books, Westphalia, Hanover
Actual silver medalist of the German national championships 2016
Chacoon Blue is an impressive, well put together and lightly built show jumping specialist in a beautiful grey coat, bred from the outstanding dam line of the Olympic winner Askan. Well-defined lines and a true affinity for performance are prominent characteristics of this top stallion. His canter and the quality of his jump from the perspective of scope, manner and leg technique are excellent. His potential seems almost limitless. In 2014, he finished his 30-day-test in Schlieckau as one of the three equal jumping winners with the sensational jumping biased end score of 9.40. For free jumping, with his jumping pre-disposition and his character, he earned the maximum mark of 10.0. Chacoon Blue made a fantastic sporting debut with numerous winnings and high placings in A, L and M show-jumping classes, was then the impressive winner of the Dobrock show jumping championships in 2015 and, with convincing courses every day of the competition, placed participant and finalist at the German national championships of the six-year-old show jumping horses. He effortlessly succeeded the leap into higher classes: He has already won S level show-jumping competitions and was second at the Young Horse Championship of seven-year-olds in Warendorf at S** level. In 2016, Chacoon Blue produced his first crop of foals, who were highly appreciated in every respect: Large foals with modern characters and high-quality paces. In 2016, Chacoon Blue was among the most used show-jumping stallions in Germany.
The sire Chacco-Blue, in the meantime sire of many internationally successful show jumping horses, was victorious in international Grand Prix's, among others in Neumünster 2012 and the third place in Aachen, before leaving the scene far too early. Chacco-Blue sired more than 30 licensed sons and 183 advanced level/S level show jumpers, who have so far won more than 1,31 million euros and placed their father in eighth place in the 2016 WBFSH world ranking.
His dam sire Cartoon, only at stud for a short time whilst being active in sport, has sired a higher than average number of successful advanced level/S level horses for the little time he was standing. The well-known performance sires Domino, Winston, Almhügel III and Agram appear in previous generations of the pedigree.
The great grand dam Akelei Z is a full sister to the team Olympic Champion Askan 4/Gerd Wiltfang. Her line goes on to the significant Hanoverian mare family33/Agenda (by Agram-Alex etc.), from which came 25 licensed stallions, amongst them Aramis Z (privately owned stallion, Bavaria, NL, HUN), Askan, Gaston and Sao Paulo (Ldb./stud Celle), Aventinus, Charity, Saskan and Senatsrat, (privately owned, Oldbg.), Don Ramiro (SUI), Douceur (Ldb/stud Warendorf), Exquisit (Ldb./stud Dillenburg), Gavi (privately owned stallion, Hanover, internationally successful with Helena Weinberg and Hilmar Meyer), Gerald (privately owned stallion, Rhld.), Godewin (privately owned stallion, Hess.), Laudatios (privately owned stallion, Sachs.), Lightning Star (Ldb./stud Marbach), Lunatico and Roquefort (privately owned stallions, Bavaria), Werbellin and Wertherson (USA) as well as the internationally successful show jumpers Don Ramiro/Hugo Simon (AUT), Dusty Donelly/Hardy Diemer, Let's talk about/Gerardus Krijnen, Salvador 3/Harvey Smith and Sir Lavendel/Markus Keil.
Chacoon Blue: The follower of his great father!
Chacco-Blue

Chambertin

Cambridge

Desiree VII

Contara

Contender

Godahra II

Cindina

Cartoon

Carthago

Peggy-Anne

Widina

Domino

Windina
Stud Terms
Chilled & frozen semen sold for one mare only. 50% credit will be given the following year for mares not in foal. Up to 2 doses available for the stud fee. If your stallion is not available at anytime they will substitute another similar priced stallion. Stud closes 31st July.