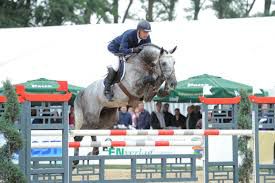 Prices:
Chilled: €1,000.00
Frozen: €800.00
Stud Fee:
800.00 for frozen semen only
Breed:
Colour:
Height:
172cm
Born:
Studbooks:
Mecklenburg, OS-International, Rhineland, Southern German Stud Books, Westphalia
The comeback of the year
The significant lined Stakkatol embodies jumping qualities in truly rare concentration: His scope, caution and attitude can only accurately be described with superlatives. He was successful in show jumping classes. Later on, he won S level show jumping classes, but unfortunately retired very early from sport events because of an injury. After several years of use on Lewitz stud's own mares, Stakkatol is now officially listed in the stallion catalogue thanks to his, in every respect, outstanding breeding results. This is how he created a very convincing business card and was strongly represented at the last German national championships with numerous extremely successful offspring. The oldest of them were already victorious and high placed in striking presence in S level show jumping classes. His daughter Stalognia was the absolute top price of the 2015 PSI auction at 1.7 million euros, after the highly placed German national championship finalist Stalando, also a son of Stakkatol, was a PSI star horse in 2014.
Stalognia is also the dam of the stallion based in Sweden, Kannatol. His sire Stakkato dominated the FN show jumping breeding valuation from 2001 to 2012. Ridden by Eva Bitter, Stakkato won the 1998 Hanoverian show jumping championships at the Dobrock competition and the German national championships in Warendorf. In 2003 as well as 2010 the duo took the German Champion title in show jumping in the class for ladies, the 2004 Vice Champion title and competed successfully for Germany in Nations Cups. In 2007, he was "Hanoverian stallion of the year".
His dam Caroll was also successful with Sören von Rönne up to S level classes. She is a daughter of Capitol I who became "Lord Privy Seal" of the Cottage Son xx-line in Holstein and was the concept of value for show jumping horses with scope and outstanding bascule. Early on, his offspring were successful on a broad front in international sport; 215 of them had success at S level show jumping alone. His grand-dam Lolita was herself successful at M level show jumping and produced various successful show jumping horses. Her sire Liguster was champion stallion of the Holstein licensing in 1972.
Stakkatol results from the pure thoroughbred line (thoroughbred family 13 A, in the Holstein line 8795), starting with the outstanding line founder Pix As xx in the 5th generation. This line produced the sires for various Warmblood breeds, including Welsh City xx (privately owned stallion Han.), Schwarzgold/T (privately owned stallion Han.), Camaro/T., Canzler/T. and many more. Even though he is bred from a thoroughbred line, it is preferable to cross Stakkatol with mares with a certain amount of blood.
Stakkatol: Sure show-jumping stallion for highest demands - Scope is always in fashion!
Stud Terms
Frozen semen sold for one mare only. 50% credit will be given the following year for mares not in foal. Up to 2 doses available for the stud fee. If your stallion is not available at anytime they will substitute another similar priced stallion. Stud closes 31st July.