Semen Freezing in Conjunction with West Kington Stallion Centre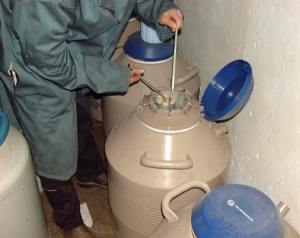 Semen freezing is carried out at West Kington Stallion Centre near Chippenham.
All stallions visiting West Kington will require health tests to be taken according to the HBLB code of Practice for the control of venereal diseases:
Stallions that are collecting for export will require additional health tests relevant to the country of destination.
Prices range from around £260 + VAT to meet basic EU requirements to around £1000 + VAT for worldwide distribution.
Logistics
During a 2 to 3 day stay it may be possible to make 3 or 4 collections. Over a longer period, the most cost effective routine is to make no more than 3 to 4 collections per week.
The number of insemination doses produced from each collection varies considerably depending on semen quantity and quality, but is usually between 5 and 15.
Costs
| | |
| --- | --- |
| Service | Price |
| Full livery (in quarantine if appropriate) and exercise to owners requirements | 2019 Price TBA |
| Collecting and freezing one ejaculate (to include the first 5 doses processed) | 2019 Price TBA |
| Charge for each additional dose of useable semen produced from an ejaculate | 2019 Price TBA |
| Typical weekly charge to include full livery and at least 3 collections | 2019 Price TBA |