About B&W Equine Vets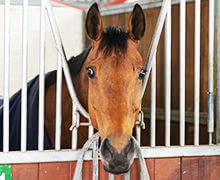 B&W Equine Vets is one of the largest equine practices in the South West and is here to help you provide care for your horse or pony. Our team of experienced equine vets, based either in our state-of-the-art equine hospital or working from one of our equine clinics, is available 24 hours a day to provide you with optimal equine veterinary care.
B&W Equine Vets was formed in 2009 following the merger of two established, dedicated equine practices, namely Bushy Equine Vets and The Willesley Equine Clinic. Our intention was to provide nationally and internationally renowned cutting edge veterinary care which would be the backbone of our referral service.
Our mobile veterinary team provides a full range of equine veterinary services and has a range of portable diagnostic equipment available to carry out procedures at your yard such as endoscopy, X-ray & ultrasound.
The large clinical team at the B&W Referral Hospital in Breadstone, Gloucestershire, includes six specialist veterinary surgeons covering areas such as orthopaedic surgery, soft tissue surgery, internal medicine, dentistry and diagnostic imaging.
Our internationally renowned Stud & Reproductive service, provided by B&W Equine Vets, is based at our Willesley clinic and has over 30 years of expertise in equine reproduction.
We aim to provide a first class service to all of our clients and referring veterinary surgeons.
Meet the Team