About B&W Equine Vets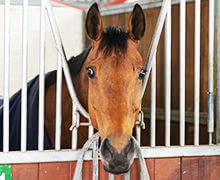 The B&W Equine Group is here to help you as a dedicated equine practice providing care for you and your horse or pony. Our team of experienced equine vets based either in our state-of-the-art equine hospital or working from one of our equine clinics are available 24 hours a day to provide you with optimal equine veterinary care.
B&W Equine Group was formed in 2009 following the merger of two established, dedicated equine practices, namely Bushy Equine Vets and The Willesley Equine Clinic. Our intention was to provide nationally and internationally renowned cutting edge veterinary care which would be the backbone of our referral service. Throughout the process, it remained paramount to maintain the high level of service that our local clients had become accustomed to.
B&W Equine Group aim to provide the very highest level of equine veterinary care as well as performing innovative procedures. We strive to provide the highest level of professional and personal care for you and your horse or pony, whether that be be via our vastly experienced mobile team or at our equine hospital.
Our internationally renowned Stud & Reproductive service, provided by B&W Equine Group, is based at our Willesley clinic and has over 25 years of expertise in equine reproduction.
We aim to provide excellent service to all of our first opinion and referral clients as well as to all of our referring veterinary surgeons.
Meet the Team
Directors of B&W Equine Vets
Ian Camm

BVSc CertEP MRCVS

B&W Equine Group Director

Ollie Crowe

BVSc CertES(Orth) DipECVS MRCVS

European Specialist in Equine surgery

B&W Equine Group Director

Richard Hepburn

BVSc MS(Hons) CertEM(IntMed) DipACVIM MRCVS

ACVIM & RCVS Recognised Specialist in Equine Medicine

B&W Equine Group Director

BVSc DVDI MRCVS

Advanced Practitioner in Veterinary Diagnostic Imaging

B&W Equine Group Director

Chris Wright

BVSc CertVR Cert EM(IntMed) MRCVS

Advanced Practitioner in Equine Internal Medicine and Veterinary Diagnostic Imaging


B&W Equine Group Director

Lee Paul

BSc(Hons) BVM&S GPCert (EqP) MRCVS

B&W Equine Group Director

David Agnew

BVSc GPCert (EqP) MRCVS

B&W Equine Group Director

Advanced Practitioner in Equine Practice

B&W Equine Group Director

Advanced Practitioner in Equine Practice

B&W Equine Group Director

BVSc CertEM(Stud Med) BAEDT MRCVS

B&W Equine Group Director

B&W Equine Group Director