Zone Visits
For routine work, such as a vaccinations, take advantage of your local clinic's Zone Day scheme.
There is no visit fee for your call on a Zone Day. By grouping calls together we can work more efficiently and pass the savings on to you.
Vaccinations
Regular vaccinations ensure that your horse has maximum protection against infectious diseases in the UK that can cause serious, and sometimes fatal, illness.
We strongly recommend that all equines are vaccinated against equine influenza and tetanus. If you wish to compete your horse in equestrian sport vaccination will be a requirement of the governing body.

Equine Influenza
Equine influenza is a highly contagious viral disease of the respiratory system, caused by different strains of the influenza virus. Horses can contract the disease either from direct contact with an infected horse or through contaminated environment/air. It spreads very rapidly as infected horses incubated the virus for only 1-3 days before developing symptoms.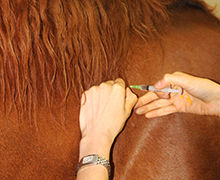 The disease can quickly deteriorate into life threatening bronchitis or pneumonia and when recovering, horses are often susceptible to secondary infection as they are left in a debilitated state. Naturally we recommend vaccinating horses against this disease.
Equine influenza vaccine schedule:
A primary course of two injections given between 21 and 92 days apart.
A third injection given between 150 and 215 days (5 and 7 months) after the second injection.
Annual boosters are required thereafter (must be given within 365 days of previous injection).
Tetanus
Tetanus is usually fatal and is caused by the soil borne bacterium Clostridium tetani contaminating any wound however small. Because the incubation period is 7-21 days the wound is very often healed by the time symptoms start to show.
The risk of tetanus is significant and ever present and approximately 90% of unvaccinated horses who contract tetanus don't survive. Those that do survive require intensive veterinary care for at least 6 weeks.
Vaccination against the disease is very effective and is strongly recommended. Tetanus vaccination is commonly combined with influenza vaccination and if you follow the vaccination schedule for the combined vaccination your horse should be protected against tetanus.
When using separate vaccines, the tetanus vaccination schedule is as follows:
Primary course two injections 4-6 weeks apart
First booster within 12 months of the second primary injection
Subsequent boosters only needed every 2 years
We advise that all horses are vaccinated against tetanus even if they do not travel or mix with other horses.
In some cases we will recommend vaccinating against other diseases such as EHV and rotavirus. We are happy to advise when these might be required.
Competition rules
If you wish to compete your horse or pony, the society with whom you compete will state which regulations they expect you to follow.
No vaccination should be given within the 7 days preceding competition
Riding club, pony club and affiliated events all adhere to the racing authority rules.
For horses (competing) registered under FEI rules a primary course of injections is given as above. Following that there must be a first booster within 7 months and then at least annual boosters given. To compete under FEI rules a booster vaccination must be given within 6 months + 21 days of the competition. No vaccination is to be given within 7 days of competition.
Whilst we endeavour to send vaccination reminders by text it is the owner's responsibility to ensure their horse's vaccinations remain up to date.