Sore or weepy eyes, spooky behaviour, can your horse see properly?
Eye problems are common in horses. We are always available to give expert advice.
Ophthalmology
Eye injuries and infections can be common in horses, whilst often not serious, it is important to check all eye injuries to prevent a minor problem becoming more serious. Eye problems may include traumatic injury, conjunctivitis, ulcers and foreign bodies.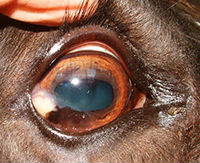 With prompt treatment many eye problems can be brought under control within a few days. If you notice anything unusual with your horses eyes you should contact your vet.
Our ophthalmology service is headed by Brian Patterson BVM&S Cert VOphthal MRCVS who is one of only a handful of clinicians in the United Kingdom who practises as a full time veterinary ophthalmologist.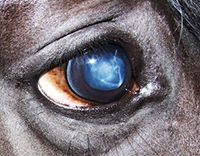 Our diagnostic facilities available include slit lamp biomicroscopy, tonomomentry for glaucoma, direct and indirect ophthalmology, ocular ultrasound, infrared photography, laboratory investigations, digital radiography and CT. For all eye cases we encourage early case discussion as we are passionate about maximising visual outcome
Areas that we commonly consult on include:


Pre-purchase second opinions
Management of complicated corneal ulcers
Cataract evaluation and treatment
Cyclosporine implants for recurrent uveitis or immune medicated keratopathies
Iris cyst ablation
Laser surgery for glaucoma
Management of corneal and conjunctival squamous cell carcinomas