Vet REACT Colic Champions

B&W Equine Vets are BHS Vet REACT Colic Champions
B&W Equine Vets is one of 62 veterinary practices across the UK who have become Vet REACT Colic Champions for 2019, in a new scheme coordinated by The British Horse Society and The School of Veterinary Medicine and Science, University of Nottingham. Here at B&W Equine Vets, we will be working closely with both organisations throughout 2019 to share information and advice from the REACT colic campaign on how to recognise and react to signs of colic as quickly as possible to give your horse the best chance of recovering.
Colic is the most common veterinary emergency in the horse. Most cases are mild and can be resolved with simple treatment, but a small percentage are critical or life-threatening. These critical cases will need rapid decision-making by both the vet and owner.
The REACT colic campaign includes a poster of the most common signs of colic, and ten fact sheets on colic 'essentials' (also available as downloadable pdfs):
Over the next year, we will be holding at least two talks on the key REACT messages and will also be sharing information through our website and Facebook page. The free REACT packs and guides will be available in our reception areas and also available at our client evenings.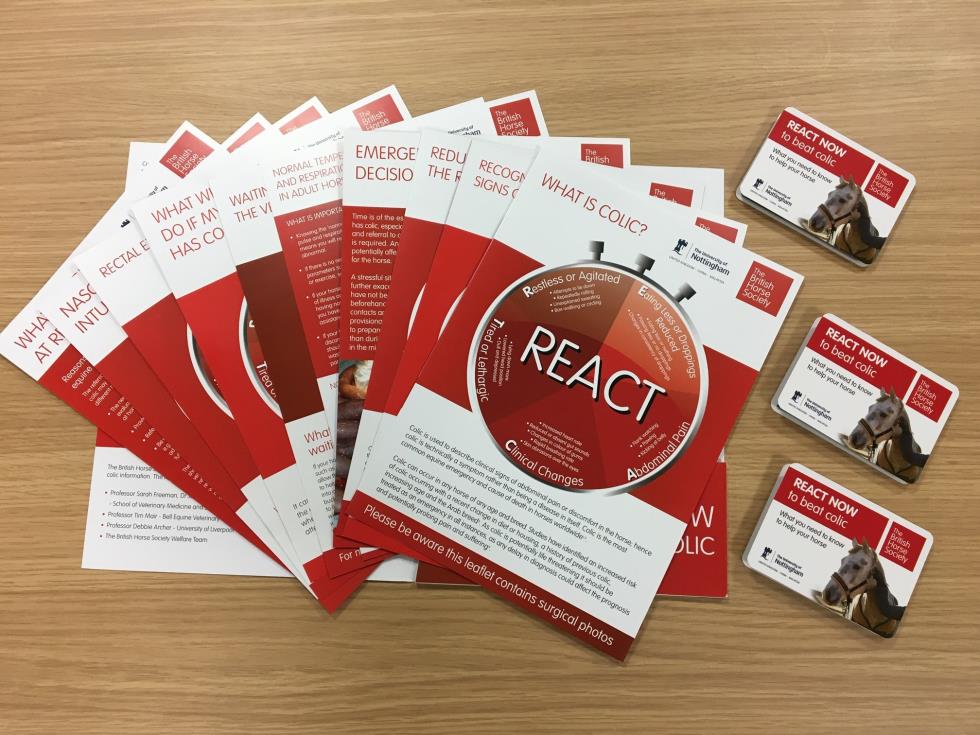 Please drop in to any of our clinics and pick up some copies. Also keep an eye on our facebook page and website 'What's On' for details of the talks and events.
The REACT campaign provides essential information to help you understand the different causes of colic, how to recognise colic early, and how to plan ahead to make sure you give your horse the best chance of recovering. We look forward to sharing this information with you and making sure you are prepared.
Further articles available:
Colic and the horse's digestive system
Colic: What will happen when the vet comes