Contact Failand ...
Failand Clinic
Ashton Hill Farm
Weston Road
Failand
Bristol
BS8 3US
Tel: 01275 392956
Fax: 01275 392987
failand.enquiries@bwequinevets.co.uk

BSL users can contact us by SignVideo. Click on logo.
Office Hours
8:30am - 5.30pm Monday - Friday.
24/7 for emergencies
Please note Bank Holiday and seasonal opening hours may apply.
Failand Clinic
The Failand clinic is situated just south of Bristol and our experienced mobile equine vets
cover the whole of Somerset and South Gloucestershire.
Visits can be arranged for all routine as well as advanced equine veterinary work, including modern dentistry. Our patients range from children's ponies, donkeys, zebras, to international competition horses. For routine work such as vaccinations, dental work and health checks you may wish to take advantage of our zone day scheme, which offers a reduced visit charge of £10, representing a considerable saving on our regular visit charges (you will be asked to make payment for the zone visit and treatment at the time of booking).
If an appointment is booked for 3 or more horses, you will benefit from a FREE visit charge and, unlike a zone day, you can choose the date and time of your appointment (subject to availability) and it can also be for non-routine work.
The clinic allows lameness investigations with hard and soft lunging areas and a 40m x 20m menage to allow ridden assessments of your horse. The clinic is fully equipped for medical investigations such as endoscopy, gastroscopy and minor surgical procedures. We have a large examination/treatment room with rubberised flooring and stocks for safe examination of patients.
We run a full mobile service and most procedures can be done at your yard. We pride ourselves on having the very latest equipment which includes:
Two portable digital x-ray machines which give immediate results, allowing us and you to see the pictures straight away.
Three diagnostic ultrasound scanners for mare reproductive work and mobile tendon and lameness work.
Two flexible fibreoptic endoscopes for upper respiratory tract investigations and a long video endoscope used in the investigation of stomach ulcers.
We also carry a full range of dental equipment including motorised burrs for more advanced dental techniques.
Our experienced equine vets provide the South West with:
A fully equipped equine mobile visiting service.
Preventative healthcare packages.
Wide range of modern diagnostic equipment.
Fully equipped equine dental service.
Lameness and poor performance investigations.
Mobile x-rays, ultrasound, endoscopy, gastroscopy.
Pre-purchase examinations (vettings).
Riding school inspections.
Equine exports.
Field surgery including castrations and advanced wound management.
Vets 24/7
Failand Zone Map (click to view larger version)
Contains OS data © Crown copyright 2020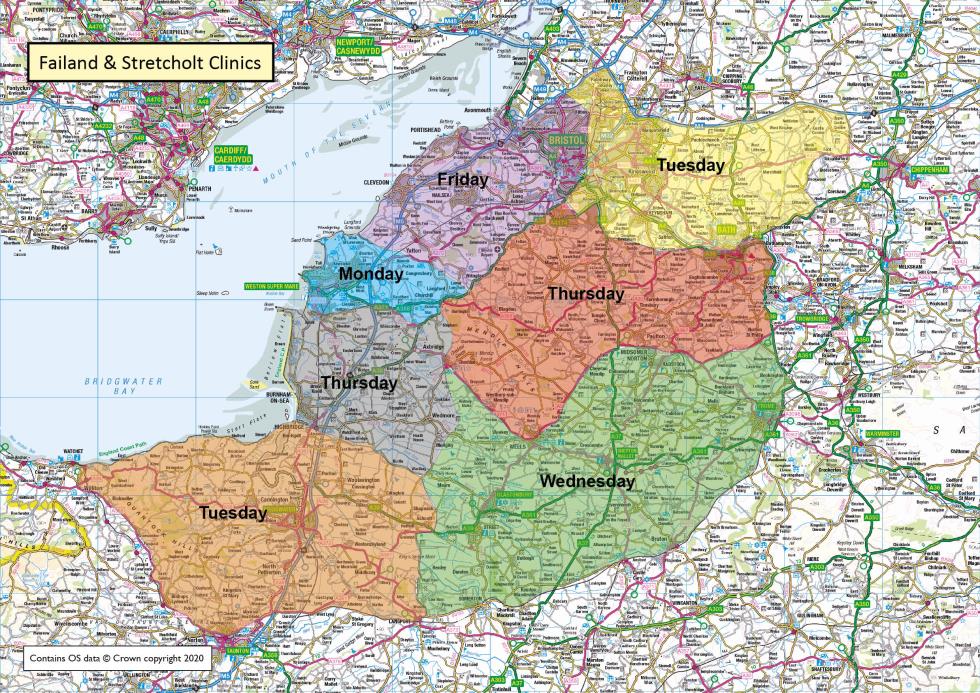 How To Find Us