Contact Willesley ...
Willesley Clinic
Byams Farm
Willesley
Tetbury
Gloucestershire
GL8 8QU
Tel: 01666 880501
Fax: 01666 880302
BSL users can contact the clinic using SignVideo. Click on the logo.
Office Hours
8:30am - 5.30pm Monday - Friday.
24/7 for emergencies
Please note Bank Holiday and seasonal opening hours may apply.
Willesley Clinic
The Willesley team of mobile vets cover an area stretching from Chippenham up to Cheltenham and out to the Forest of Dean providing all aspects of equine veterinary care. For routine work such as vaccinations and routine dental examinations you may want to take advantage of our zone day scheme, which offers a reduced visit charge of £10, representing a considerable saving on the regular visit charges (you will be asked to make payment for the zone visit and treatment at the time of booking).
If an appointment is booked for 3 or more horses, you will benefit from a FREE visit charge and, unlike a zone day, you can choose the date and time of your appointment (subject to availability) and it can also be for non-routine work.
From our Willesley clinic we have a team of highly qualified equine vets that are on hand to offer the best possible care for your horse, pony or donkey. We not only provide a full first opinion mobile service covering all aspects of veterinary care from routine vaccinations, dental care and health checks to lameness examinations and reproductive work. We also offer radiography, endoscopy and ultrasound scanning either at your yard or at your local clinic.
Our experienced equine vets provide the South West with:
A fully equipped equine mobile visiting service.
Preventative healthcare packages.
Wide range of modern diagnostic equipment.
Fully equipped equine dental service.
Lameness and poor performance investigations.
Mobile x-rays, ultrasound, endoscopy, gastroscopy.
Pre-purchase examinations (vettings).
Riding school inspections.
Equine exports.
Field surgery including castrations and advanced wound management.
Vets 24/7
Stud and Insemination Centre
Our Willesley clinic is also the base for our our Stud and Insemination Centre. It has all the facilities expected of a commercial breeding farm along with the veterinary expertise of the stud and reproduction veterinary team.
B&W Stud and Reproduction Services are able to offer the complete breeding package for your mare or marketing opportunity for your stallion at the Willesley stud.
The following services are available across the whole group:
Reproductive health screening tests as described by the HBLB code of Practice.
Gynaecological management of Thoroughbred mares at covering('walking in')
Artificial Insemination with fresh, chilled and frozen semen.
Embryo Transfer.
Mare infertility investigations.
Competition stallion management and marketing.
Equine AI - Stallion selection and semen supply.
Semen freezing in conjunction with West Kington Stallion Centre.
Stallion fertility investigations.
Willesley Zone Map (click to view larger version)
Contains OS data © Crown copyright 2020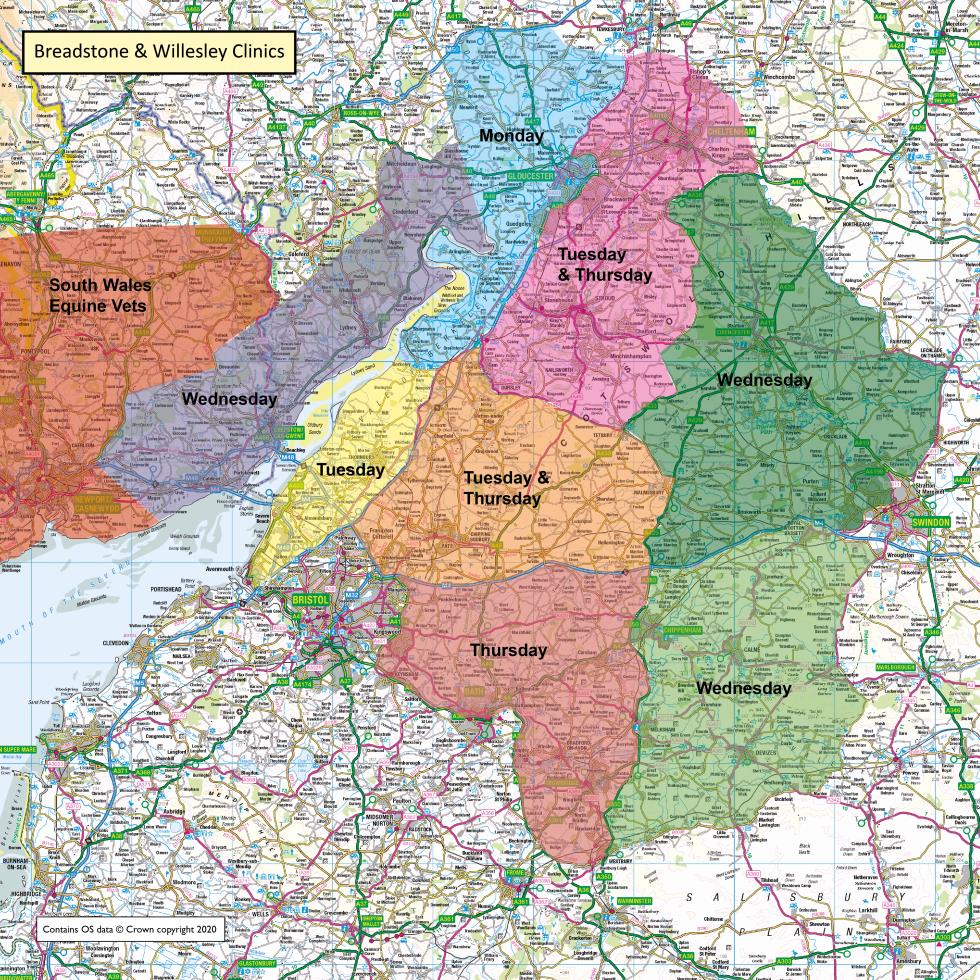 How To Find Us