Contact Kelly ...
B&W Equine Group Ltd
Willesley Clinic
Byams Farm
Willesley
Nr Tetbury
Gloucestershire
GL8 8QU
T: 01666 880501
M: 07526 726779
Kelly Harrison-Tait BVSc MRCVS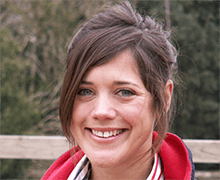 Kelly completed an 18 month rotational internship at B&W Equine before working for their busy Cardiff practice as an ambulatory vet.
Kelly then took a position as sole veterinarian on a busy Quarterhorse stud in Australia. Daily work involved AI with both fresh and frozen semen, embryo transfer and collecting, processing and evaluating semen.
Now based at our Willesley Clinic, Kelly is one of our busy ambulatory vets with a keen interest in stud work.