Contact Brian ...
B&W Equine Group Ltd
B&W Hospital
Breadstone
Berkeley
Gloucestershire
GL13 9HG
T: 01453 811867
M: 07815 144710
Brian is an external consultant so we may need to ask Brian to call you back if he is not available at the time of your call.
Brian Patterson BVM&S CertVOphthal MRCVS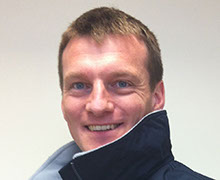 Brians undergraduate training took place at the Royal Dick School of Veterinary Studies. Following a short period in general practice Brian undertook a two year internship at Liphook Equine Hospital followed by two years as an ambulatory equine clinician at the Arundel Equine Hospital. Brian returned to Glasgow University to undertake a three year residency in equine medicine and surgery with particular reference to ophthalmology. During this period Brian attained the RCVS certificate in ophthalmology. Brian is one of only a handful of clinicians in the UK who practices as a full time veterinary ophthalmologist.