Contact John ...
B&W Equine Group Ltd
B&W Hospital
Breadstone
Berkeley
Gloucestershire
GL13 9HG
T: 01453 811867
M: 07770 682535
John's normal working days are Monday - Friday, 9am - 1pm.
John Killingbeck BSc BVM&S CertEP MRCVS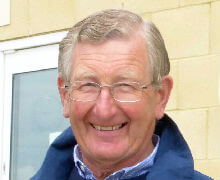 John has more than 46 years experience of equine practice. He holds the RCVS certificate in Equine Practice and has a particular interest in competition horses, with a special emphasis on orthopaedics and lameness. He has travelled extensively around the world with a number of National Event Teams to four Olympic Games and several European and World Championships, winning over 20 gold medals between them, and was the Official Veterinary Surgeon to the British Three Day Event team from 1992-97.
John now acts as an FEI Veterinary Delegate at several international competitions each year. His knowledge and experience of lameness diagnosis, and in particular foot problems, is widely recognised. John is an examiner for the Worshipful Company of Farriers and has also acted as an examiner for the RCVS. He also lectures on a regular basis at the Royal Agricultural College in Cirencester and makes regular contributions to various equestrian publications.