Contact Pete ...
B&W Equine Group Ltd
Willesley Clinic
Byams Farm
Willesley
Nr Tetbury
Gloucestershire
GL8 8QU
T: 01666 880501
M: 07901 787170
Pete Ravenhill BVSc CertEM(Stud Med) BAEDT MRCVS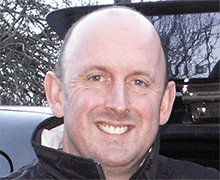 Pete specialises in equine stud medicine and equine dentistry, with specific interests in management of sub fertile mares, twin reduction and foetal sexing.
Pete developed his stud medicine skills while completing stud seasons with Rossdales in Newmarket, and Southern Hemisphere seasons in Zimbabwe! During this time Pete gained the RCVS Certificate in Equine Medicine (Stud Medicine).
Pete currently has a mixed case load of Thoroughbred stud work, all forms of equine AI and specialist equine dentistry.